******* Hi All ***********************************
***UPDATE October 1, 2014*********
Sorry, I'm currently doing only very select TFP, but I'm always happy to rent. Rates are reasonable, please message me for details.
I spend most of my time in my studio, so I can't always get to my MM messages in a timely manner. My apologies for that and I thank you for your patience. If you need to reach me urgently, please email me at confessionny@yahoo.com. Thank you!
xoxo
-karen
ABOUT ME:
I've been doing high-end edge and alternative clothing for over 20 years. I've worked in film, video, stage and television (HBO, Sci-Fi Channel, MTV and more)...costumed celebs and stage artists like John Leguizamo and Steven van Zandt, worked with Tim Gunn on his reality show and even dressed MTV vj's Adam Curry and Downtown Julie Brown in a previous life. I'm always looking to expand my world with other talented artists and of course, if you ever need anything amazing for your closet, let me know! I'm happy to take commissions.
I can be contacted here through Model Mayhem or through my email address at confessionny@yahoo.com. Also, please visit my Etsy store for ready made items:
www.kvodesign.etsy.com
Thanks for visiting!
xoxo
-Karen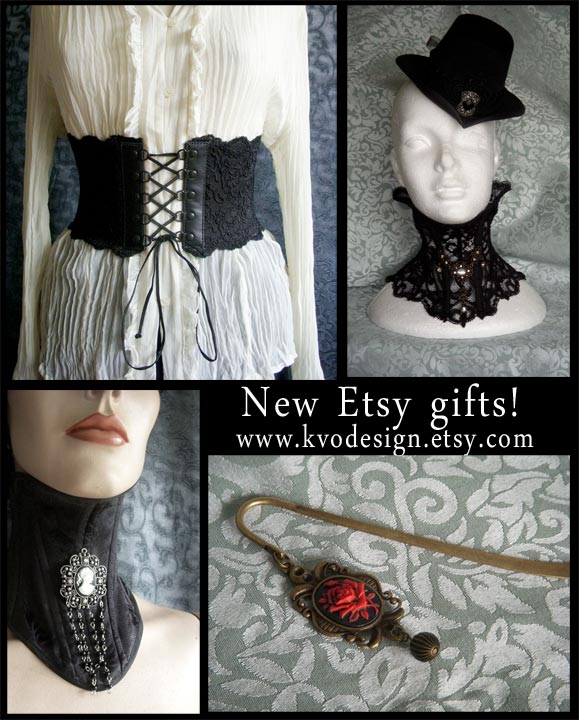 ***Print Publications:***

Anatomy of Steampunk - Hardcover book by Katherine Gleason/Race Pt. Publications
Berg Fashion Library & Encyclopedia - One of 2 designers chosen to represent Steampunk as a fashion trend
1000 Cosplay and Costume Ideas - May 2013
Sinical Magazine - #9
Bella Morte - Dec 2012
Glamfreak Magazine - #2
Giuseppina Magazine - #11
Radiant Magazine #4
Dark Beauty Magazine #9
Glam Rock Magazine - Winter 2011
Dark Beauty Magazine #3
Sinical Magazine #4
Dark Beauty Magazine April 2011 Issue #5
Cover & 8-page editorial in Metro B Mag - Feb 2011
Auxiliary Magazine - Feb/March 2011
Beauty in Darkness by Laura Dark
Cover of Actitudes Magazine #25 - Portugal
Practical Photography Mag May 2010
Alt Fashion Mag UK #15
Gothic Beauty Magazine #26
Pinups for Pitbulls Calender 2009
Book "Lessons"
0086 Magazine (China)
Marie Claire Italy
Animal Sheltering Magazine (Humane Society of the U.S.)
Alt Noir #1
Alt Noir #4
Broadsword Comics: "Tarot, Witch of the Black Rose"
Auxilary Magazine


***Online features and articles:***

Black Mirror - online artist's gallery - Feb 2013
Vogue Italy online - Oct 2012
Fashion Erotica Vol. 4
Discovery Channel News clip Nov 2009
Fangoria Mag Online Cult Couture feature Nov 12, 2008
NY Magazine online Fashion 10-27-08



Past shows and Events:

Anachronism Fashion Show Nov 2010
Brooklyn Inde Market Steampunk Fashion Show Oct 2010
Dorian's Parlor Fashion Show July 2010
Mercedes Benz Beach Bunny Swimwear Fashion show - lace masks featured on runway models for 2011 swimwear line
Fashion show Steampunk World's Fair 2010
Fashion show Wicked Faire 2010
Fashion show Brooklyn Indie Market 2009
Fashion show at Wicked Faire 2009
Brooklyn Indie Market Steampunk show 2008
Salon Con '08


Lots of custom commissioned stagewear, on-set production and costumes supplied for bands, commercials, video, film, and television over the years:
MTV
Sci-Fi Channel
HBO
BRAVO
Bizarre
Gypsy Nomads
+ more I can't even remember!


Collaborations with Photographers:

TarilynQuinn - MM#119449
WinterWolf Studios - MM#197988
Frank Siciliano - MM#214403
Julia Gerace - MM#20812
Candylust -MM#159152
Emma Wilcox - MM#67201
Image23 - MM#260195
TK Expressions - MM#5668
Marc Rosebeck - MM#119208
Cherry Blossoms - MM#1066224
Wandering Bohemian - MM#1793
Ka Xiong - MM#373978
1975 - MM#90637
Brian Burk - MM#152142
Jerry Bennett -MM#1374
Azzara -MM#15842
Tina Dolan - MM#715689
Dastardly Dave- MM#105703
Danger Ninja- MM#400365
Kandi Pixels - MM#109171
Philadelphia Foto - MM#1176644
Mark Veltman
GE Masana
Reagan Lam


Models:

Winter Kelly - MM#702501
Hexabelle - MM#440853
Emma Palmer - MM #121490
Eastwick - MM#8564
Mandy Pauline - MM#72341
Sharon TK - MM#540375
Porcelain - MM#98893
Audio Girl - MM#767695
Little Darling - MM#20671
Ashes - MM#707244
Mosh - MM#219654
Jenni Button - MM#613104
Jenn Michelle
Apnea - MM#7339
Dorothy Johanna - MM#684612
Katy Ann - MM#458769
Kelly von Kay - MM#368064
Looooo - MM#284638
Vivka - MM#32477
Deanna Deadly - MM#377063
Jessie-Lynne - MM#772
Esmeray - MM#344395
Bell vs Fashion - MM#881316
Crystal Eagland - MM#743853
Kess M - MM#609428
Siouxsie Radcliffe - MM#799434
DMM - MM#361065
Marlo Marquise - MM#712342
Jade Vixen - MM#712342
Katy Ann - MM#458769
Galetea - MM#494563
Lydia - MM#477955
Kerri Taylor - MM#982
Nicotine - MM#124480
Liama - MM#723238
Ghost Bear - MM#1257850
Jayne Riot - MM#251673
Bad Charlotte - MM#637916
Tori Mendel - MM#1344993
Nori Zay - MM#716145
Roxy Vandiver - MM#1134974
Amanda - MM#402948
Ashley Graham - MM#128845
Maria Bella

MUAs and Hair artists:

Designs By LJ - MM#322
Lady of Design - MM#658806
Hedonist Bitch - MM#745053
Ruby Randall - MM#612523
Janeen Jones - MM#680886
Roxy Jackson - MM#1109083
Torre Somma

Please forgive me if I've forgotten anyone - I'm not very good at keeping records. Just drop me a note if you'd like to be added =]