"Modeling has always been a passion of mine, but as for now, i am looking for something on the side as a hobby."
Hi Everyone! its been a while since i been here and doing modeling. Its been almost 2 years since i got back into modeling.
I just got signed in contract with
http://www.perfectlypetite.com
.
I am up for almost anything, and just wanting to build up my port since its been a while for me.
i love new shoots and challenges that makes me nervous. I am very nice laid back guy. I am very serious with modeling so i wont waste ur time. U can count on that!
I have been working with a couple photographers, but now i feel i need a serious project or work. If anyone is interested doing something serious contact me.
I also design graphics and create my own artworks also i do a little bit of phoytography, but now i mostly am concentrating on geting some modeling works and trying to get back to college in the fall.
A little bit about myself:
Failing is not my goal, but life is full of disappointments. I just want to be successful in everything i do and want people to recognize me for the things i had done and accomplished. I am very comfortable doing shoots and dont mind doing any kind of shoots except for (NUDES). If you are interested contact me. Also CHECK MY INFORMATION before you want to shoot with me. I dont want anyone to judge me for my height, i want to work with someone who is willing to help me and want to work with me for what they see in me and the passion i have for modeling.
Thank You!
Model Courses:
Model Me Mary I
Model Me Mary Confindence Course
Model Me Mary Advance
John Robert Powers:
Acting
Fashion Shows:
3m Fashion Show
Macy's Fashion Show
Photographers:
* Mary Ly-#117860-Mary was so fun to shoot with. She corrects you and she also is my model teacher. You rock Mary!
* Aj's 4Seasons Photos-#55173-They are really fun to shoot with and warm me up quickly. It was very fun working with them.
* Tom Frisch-#743016-One of the most creative and exciting shoot ever!! I was such a big zombie fan and he gave me that oppurtunity for me to have fun and get all nasty and filthy!! Tom was so creative and his works are so professional! Thanks for your help with my port and i hope i help u out a lot also. Would love to work with you again!
* Rick Yang- First in studio shoot. was really fun Rick. The photos are nice..
* Amaze photographer(Pa Houa)- Only a 16 year old girl, but she is very talented and very professional at her work. It was fun working with her and collaborating ideas. Maybe we can work together again in the future!!
*Andrew Ford
Photography- He was amazing and taught me some modeling skills i will always take with me to every of my photoshoot. was a really good experience!
Make-up/ Artist:
*Melissa, Stephanie, and Alexa(Zombie Photoshoot)
1st Model Me Mary Fashion Show 8-1-08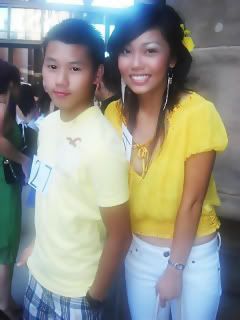 2nd Macy's Fashion Show 9-6-08