UPDATE: I have permanently moved to the greater Atlanta area (Lawrenceville) and am currently unable to travel to Florida unless all travel expenses are provided.
Also, I recently cut my hair and have lost weight/ toned up, so I am willing to accept limited TF work with select photographers to update my portfolio.
***************************************
Experience:
I have been performing since I was six years old as a musician and dancing since I was 15, and am very comfortable in front of an audience. I started modeling with an agency at 15 and can confidently say that through my seven years of experience, I am very professional and reliable. I always bring creative ideas to a shoot, take direction very well, and will leave you with a positive feeling about the images we created together.
Though I use a lot of wigs in my images, my real hair is almost to my shoulders and light blonde
When you should book me: (just a few of many reasons)
-you need someone professional, experienced and versatile
-you want someone who can provide their own makeup and wardrobe
-you need a model who can walk a fierce runway with a height ranging between 5'6 (flat footed) to 5'11' (maximum comfortable heel height)
-you need someone who has experience in acting, sales, advertising and marketing
-your project requires the model to appear between the ages of 16-24
-you need athletic action shots- I participate in numerous sports and activities.
My best asset: I am a chameleon, and I can achieve any look you want.
When you should not book me:
-your project requires nude posing
-you are unwilling to fairly compensate me for my time.
-your project does not take place in a reasonable proximity to my location/ you are unwilling to compensate me for travel expenses.
***************************************************
Fun fact: I LOVE to wear wigs and have a collection of at least ten of them that, on request, I can incorporate into a shoot.
If I had to classify myself, I would call myself a commercial model, but I can also do many other genres, including fashion, pin-up, beauty, gothic, and much more!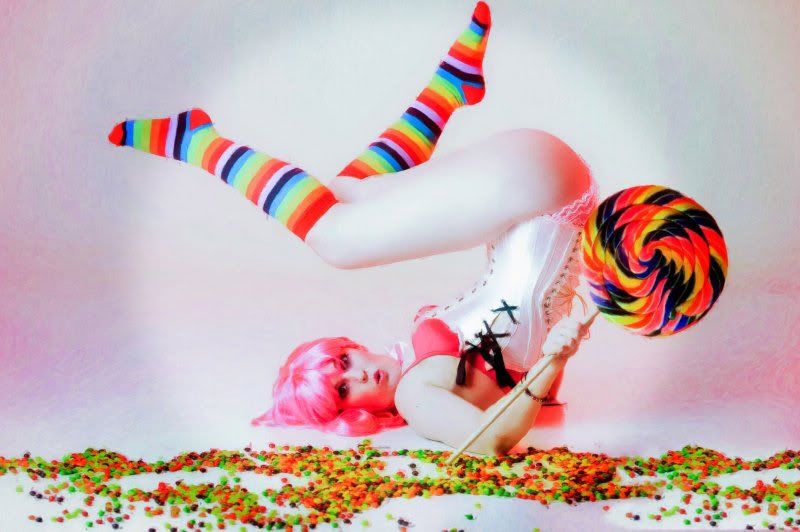 Candy and rainbow pin-up
I have years of experience in fantasy photography/ character modeling, do not hesitate to book me if you want to see your favourite character (or maybe even one of your own) come to life!
********************************************************
Please message me for more examples of my work. 90% of my jobs I get offline and I have an extensive portfolio not shown on MM.
Also, if we set a date and time for a shoot, I will call you before leaving. Please answer. If you do not answer or call back (I'll leave a voice mail), I will assume the shoot is off.
********************************************************
And just a reminder, I always have fun at my shoots, and you will too when we work together! Message me today!