Details
Last Activity:
Mar 15, 2015
Experience:
Very Experienced
Compensation:
Depends on Assignment
Genres:
Acting
Art
Bodypaint
Cosplay
Dance
Editorial
Erotic
Fashion
Fetish
Fit Modeling
Fitness
Glamour
Hair/Makeup
Lingerie
Parts Modeling
Pinup
Promotional Modeling
Runway
Spokesperson / Host
Sports
Swimwear
Underwater
See Less
Friends (489)
About Me
Hi!!!! I've been busy as a bee! I am now shooting only part time. So please message me at least 1-2 weeks in advance before desired shoot.
What I am wanting to shoot for
Tattoo Magazines, Magazines, Zivity, ADS/Campaigns, Portfolio, etc.
* 2015 UPCOMING TRAVEL NOTICES*
FEB 5TH-19TH 2015 NOLA
Late February/Late March Seattle, WA
LATE MAY/ EARLY JUNE 2015 EUROPE
AUG 28TH-30TH 2015 PHX, AZ (Hell City Tattoo Convention)
-TBA- SOUTHERN CALIFORNIA
-TBA- LAS VEGAS, NV
Always available to shoot in Portland, OREGON. Also willing to travel to Seattle, WA and other places in Oregon depending on assignment.
*For quicker response e-mail me at yourtoxicaddiction@gmail.com
Please SUBJECT: MM BOOKING . Please include a link to your MM, references, and examples of your work in email.
Welcome To My Model Mayhem Page! Add Me, Get To Know Me, Check Out My Pictures, Ask Me Appropiate Questions (Nothing Vulgar This Is Your Warning I will Block You).
I'm Toxic (You can call me T.J.) and I am a International & Nationally published Tattoo/Alternative/Pin up/Artistic Nude model. I have been modeling since the end of 2006. 2012-2014 were great years for me and I'm hoping 2015 will be even better! A Little About Me I am 26 and currently located in Portland, Oregon. You may know me from Suicidegirls.Com but I do many projects outside SG as well. Some of those projects are publication, artistic nudity, lingrie, high fashion, glamour, portrait, film, commercial work, and even runway modeling. I am always down to do something creative, different, and outside the box. I am always looking for new photographers to shoot with (For projects outside of Suicidegirls). I am not shooting for SG at this time. However I do still love SG and love the company so DO NOT message me bashing them on MM or my other sites this is your warning. Also If You Add Me As A Friend On MM know it is purely proffesional and it is The Extent Of Our Friendship I am Not Looking For A Romantic Partner and Do Not Use Model Mayhem As A Dating Site.
To see more of my modeling work
SuicideGirls
http://suicidegirls.com/girls/Toxic/
Fan Me On Facebook
http://www.facebook.com/yourtoxicaddiction
or add me T.J. Soundwave
I INSTAGRAM!
@yourtoxicaddiction 44k followers
I TWEET
@SGToxic 14k followes
TUMBLR
yourtoxicaddiction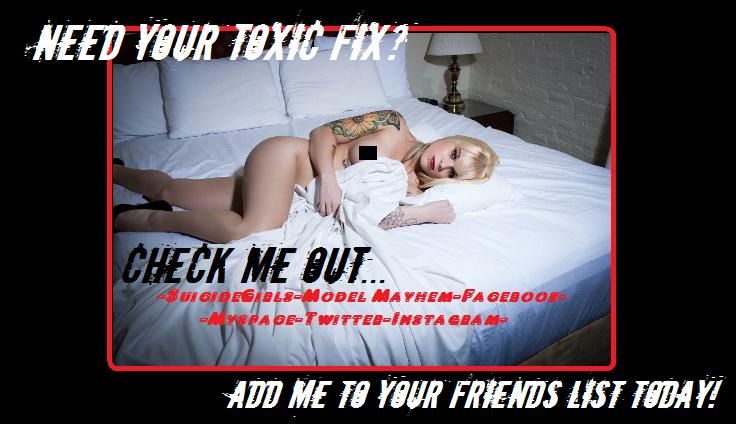 Again Thanks For Checking Out My Page. If you would like to talk about setting up a shoot feel free to message me. I will send you my conditions once you have messaged me! I am open to alot of ideas and styles.
-MM is not a dating site.
-I enjoy doing Alternative, Pin-Up, Glamour, Lingerie, Corsetry, Burlesque and anything else creative and sexy.
- I am mainly interested in shooting for tattoo magazines and other magazines.
-I am also interested in doing cd/band artwork, clothing sites, and magazines.
-I have worked with many photographers see credits below.
*3 THINGS YOU SHOULD KNOW BEFORE CONTACTING ME TO BOOK A SHOOT*
1. I DO NOT DO NUDES FOR TFP. PAID ASSIGNMENTS ONLY. ALSO I DO NOT DO PORNAGRAPHIC/EXPLICIT SHOTS OF ANY KIND. I AM DOING VERY LIMITED TFP ON OTHER PROJECTS AS WELL.
2. I WILL BRING AN ESCORT WITH ME WHEN I AM WORKING WITH AN UNFAMILIAR PHOTOGRAPHER.
3. I AM A PROFESSIONAL, I EXPECT YOU TO BE AS WELL.
Verified Credits
Worked with Toxic Suicide? Share your experience and become verified!
Add Credits
Credit Notes
*Bizarre Magazine
*Tattoo Magazine
*Savage Magazine
*Inked Junkie Magazine
*Vicious Vixens Magazine (Cover)
*Mystache Magazine
*Ink Pushers Magazine
*Garters & Grills Magazine
*Propulsion Magazine
*Suicidegirls.Com
*Inked Dream Girls
*Zivity.Com
*Inkedandsexy.com
*Calendars (2014: Pinups for Soilders and Inked Beauties)
*Lucha Diabolica (Book)
*Reignz Media
*TeaseUm.Com


I have worked with many photographers WORLDWIDE outside and with MM
I have worked with Photographers Worldwide! Photographers I have worked with!


-International Photographers-
Erika Zeta Figabomba (NETHERLANDS) *SG STAFF PHOTOGRAPHER*
Albertine (ITALY) *SG STAFF PHOTOGRAPHER*
Talena (Santiago CHILIE) *SG STAFF PHOTOGRAPHER*
Jupiter (Paris FRANCE) *SG STAFF PHOTOGRAPHER*
Turbulence-Armin (Vienna, Austria)

-National Photographers-
Mary Dalpho
Hildreth (Denver, CO)
Ben Chavez (Los Angeles, CA)
Ryan Marcus (Los Angeles, CA)
Kat Attack Photography (Northern CA)
Alissa Brunelli (Phoenix, AZ) *SG STAFF PHOTOGRAPHER*
Milloux (Los Angeles, CA) *SG STAFF PHOTOGRAPHER*
Andy Hartmark (Los Angeles, CA)
Steve Prue "Tmronin/Team Rockstar" (New York)
SAWA (Los Angeles, CA) *SG STAFF PHOTOGRAPHER*
Christian Olivera "CDO" (Las Vegas, NV) *SG STAFF PHOTOGRAPHER*
Glenn Sweet (San Jose, CA) Mayhem #137967
Wenzdai (San Jose, CA) Mayhem #376389
Dylan Borgman (Hollywood, CA)
SoBelle Images (Chicago, IL)
Mike Davis (Jacksonville, FL)
Sunnie Rizzolo (Santa Cruz, CA)*SG STAFF PHOTOGRAPHER*
Lorelei (Nashville, TN) Lorelei Photo (Tennessee) #11095

-Pacific Northwest Local Photographers-
R.L. Photograpyia (Portland, OR)
LewedandStewed Photography (Portland, OR)
Brian Jones (Portland, OR)
Eric Wimberly (Portland, OR)
Sarah Pardini (Portland, OR)
HARD Photography (Kennwick, WA)
Casey Grant (Olympia, WA/Miami, FL)
Fotoartworx (Portland, OR)
Tiny Hat Photography (Portland, OR)
Chris Goddard (Vancouver, WA)
Darryl Darko (Portland, OR)
Erica Danger (Portland, OR)
Glamworks (Salem, OR) #2257801
Travis Geney (Portland, OR)
Picasso Muse (Portland, OR)
Danger Ninja (Portland, OR)
Mark Muzzy (Portland, OR) #1134200
Kim+Phil Photography (Beaverton, OR)#1009977
Jodeen Belladona (Portland, OR)#483765
Nicole Cook (Portland, OR) #497760
Jeffery Walls (Portland, OR)
Tim Ward (Portland, OR)
Doug Hypnox (Portland, OR)
Lacey Ward (Portland, OR)
Handsome Jack Daniels (Grants Pass, OR)
Silencia Suicide (Portland, OR)
Shamarie (Amboy, Washington)
D23-Darren (LA, CA)
Justin Daniels "Fuzz Vega" (Portland, OR)

MUAS
Kim Donahue
Claire Brooksbank
Vivi Moore
Shamarie Defreece
Shoshanna

DESIGNERS
Stephen Alonzo (Las Vegas, NV)
Amy Elizabeth Couture (Portland, OR)
Inked and Sexy
Lowbrow Art Company
Black Market Art

Bodypainters
Claire Brooksbank





Listed MM Photographers, Makeup Artists, Models etc...

GlamWorks NW (Salem, Oregon)
#2257801
Photographer
Fuzz Vega Photography (Portland, Oregon)
#1075988 Photographer
TG Photo (Portland, OR)
#1155522 Photographer
Lorelei Photo (Tennesse)
#11095 Photographer
Danger Ninja Productions (Portland, OR)
#400365 Photographer
Kim Donohue (L.A./PDX/Seatle/Vegas)
#741092 Makeup Artist
Craig Thomson (PDX, Tacoma, Seattle)
#14190 Photographer
PoshGrrrL23 (Portland, OR)
#1212030 Makeup Artist
Maiwan (Vancover, B.C.)
#798394 Model
Jade Schaffer (Medford, OR)
#802323 Model
Mark Muzzy Photography (Portland, OR)
#1134200 Photographer
Kim+Phil Photography (Beaverton, OR)
#1009977 Photographer
Jodeen Belladona (Portland, OR)
#483765 Photographer
Wenzdai* Devil Daughter's Photography (San Jose, CA)
#376389 Photographer
Glenn Sweet (San Jose, CA)
#137967 Photographer
Nicole Cook (Portland, OR)
#497760 MakeupArtist/Photographer