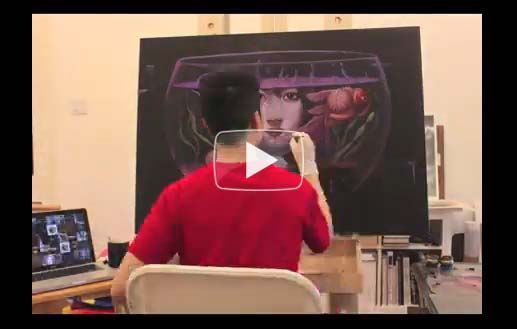 While I've always been making art and new work on a constant basis in the past few years, I have been using mostly friends as models to shoot reference with. In recent year, I have taken an interest in the camera and having some fun with photography on top of painting. I want to expand on my work and search out great new people to work with, as well as diversify my reference collection and help out some new models who are open to being part of my creating process. I have experience with photography as well, being part of portrait shoots and wedding shoots.
Professionally, I have worked as an illustrator for children books, games, movies, and trading cards. Some companies and properties I've worked on includes: Harper Collins (The Familiars Series), Lucas Film/Topps (Star Wars), Topps (Mars Attacks), Disney (Alice in Wonderland), and so on. I've had the pleasure to exhibit in shows such as Sanrio's Hello Kitty exhibition in Los Angeles in 2009 and now, I have decided to take a break from Illustration and pursue my career as a fine artist. As I prepare for my upcoming exhibitions, I am constantly looking for new models to work with, providing variety and new energy to my ever growing body of work.
Please, if you are interested in working together, don't be shy to shoot me a message. I usually do TFP (Time for Print), which means that after we do a shoot, and after I use one of the reference images for a painting or drawing, you will receive a print of it (a high quality one too).
I live in the Toronto area, I am also looking to learn some new things and open to collaborations, whether you are a model, a makeup artist, or a photographer. Lets talk and make great things happen.
More artwork at:
<a href="http://www.peterchanart.com">http://www.peterchanart.com</a>
Add me on facebook:
<a href="http://www.facebook.com/peterchanart">http://www.facebook.com/peterchanart</a>
Published Works:
Spectrum Fantastic Art Volume 19
Spectrum Fantastic Art Volume 17
Hello Kitty Hello Art!
Three Apples: An Exhibition Celebrating 35 Years of Hello Kitty
2D Artist Magazine February 2007 Issue
Exhibitions / CV:
11/2013 Put a Bird on It (Group): Distinction Gallery: San Diego
10/2013 Fairytales (Group): Arludik Gallery: Paris, France
08/2013 Copro 20th Anniversary (Group): Copro Gallery: Los Angeles
06/2013 Soliloquy (Solo): Copro Gallery: Los Angeles
04/2013 Zombies (Group): Last Rites Gallery: New York
12/2012 The Illumination (Group): Copro Gallery: Los Angeles
10/2012 Dark Arts (Group): Kosart Gallery: Chicago
09/2012 Loops (Solo): Damask Gallery: Toronto, Canada
09/2012 Happy Little Trees (Group): Screaming Sky Gallery: Portland
08/2012 Unworldly Reunion (Group): Miko Art Space: Toronto, Canada
07/2012 Julyna (Group): AWOL Gallery: Toronto, Canada
11/2011 Art Brownie Project (Group): Index G Gallery: Toronto, Canada
09/2011 'LEGEND' Key to Subkaru (Group): Hammond Museum: New York
05/2010 Twilight Zone Tribute Show (Group): Gallery 1988: Los Angeles
10/2009 Hello Kitty 'Three Apples' (Group): Royal/T Space: Los Angeles
03/2009 The Birds and the Bees (Group): SMASH Gallery: Toronto, Canada
08/2008 Summer Showcase (Group): Whipper Snapper Gallery: Toronto, Canada
Interviews:
Pens & Pixels Documentary (Digital vs Tradtional Art)
Rogers Television Canada - Jan 8th, 2008