Adam Photographic-Adam MM#105466
Faded Beauty Photography-Shannon MM#519030 (2X)
Bonski-Lindsay MM#167646
Danger Ninja Productions-Daniel MM#400365 (10+X)
Alluring Images Photo-Mandy Hupp MM#569353 (3X)
Leonardophoto-Bruce -MM#178591 (2X)
Jason Allen Photographic - MM#535716 (4x)
Study in Light-Pete MM#193517 (2X)
Chamberlin Photography MM#525216 (3X)
Nicholas Cooper MM#617816
Lavenda - MM#588178
Mike Long - Portland Pin ups MM#479590 (4x)
ENKO Photo MM#146301
Lance Normine MM#770495
Daniel Williams MM#2162
Scott West Photography MM#115569
Nearly Civilized MM#559174 (2x)
Mother Ghost MM#84437 (2x)
indi-is-conan MM#279289
Dianna Rae MM#97402
Jessica Watson Photo MM#744851 (3x)
Bryan Cinchon from Jacksonville Fl.
Ashlee Murr MM#97677
Douglas Scott MM#724100
Joseph Wong MM#863289
Laughing Coyote MM#849078 (3X)
Aimee Ketsdever MM#1283736
x6pix MM#1275859
Ethan Vella MM#
Hezzy - Model MM#479963 (2X)
Chrtsty Spurling - Model MM#669699 (2X)
Shawn Davis - Model MM#711889
Amber Renee MM#77539
Silverjade Makeup-Sabrina Cayne MM#334131 (2x)
Rosie Freeman -MUA & Whitney Griffin-Hair MM# is 705221
Laura Mehall - MUA MM#732079
Jesse Zelaya -Hair MM#782816
Andrea Kailyn -MUA MM#121626(2x)
Kristen Santos - Hair MM#782525
Kelly Cherry - MAU & Hair MM#535413
Amanda Crosby MM#823880
Nimai Marsden MM#1043965
*Runway Shows*
Massive IV -Crown Room 04/25/09
-RAW Lingerie
Attraction -An illababy Fashion Show 03/12/09- Lingerie Designers:
-Urban Girl NW
-Adjani Couture
-R.A.W
-Vigilantics
-Illababy
-AmyElizabeth Couture
-Angie Sarac [Custom hair accessories]
Halloween Bazaar Runway @ Memorial Col. 09/27/08
5th Anual Haunted shoot & runway show 10/18/08
-Placed 2nd in runway show out of 25 girls, made my own costume
Flake E. Clothing Fashion Show -09/03/08
-Flake E. Clothing
-Chromatic Belief - clothing
Rockin Rebelz of Fashion Show -06/22/08
-Sweetz Clothing Co. - Clothing Designer
-Billie Jo Retro - Clothing Designer
-Talia - Clothing Designer
-Ashley's Assets - Jewelry Designer
-MayaLisa - Clothing Designer
* Designers * I have Modeled for NOT on the runway-
Babygirl Boutique -Broad Minded Clothing
Atomic Bele Fashions
Raw Lingerie (3X)
Billie Jo Retro(3x)
PJ Von Bows
Untelligent Design
Sweetz Clothing
Donestic Minx Origonals
* WEBSITES *
Portlandpinups.com- Contract Girl -Mike specializes in Pin-up portraits
http://www.katchlight.com/blog/category/pin-up
getdesignhouse.com/blog/ -a two-day workshop focusing on Pin-up and Fashion/Glamour work.
cherryreddfashions.com/salem_cherry_redd_linkage.php -A store for all your Rockabilly needs
http://www.myspace.cn/cherry_club
- Valentine Girl & featured girl in Feb. 2009
Babygirlboutique.com- Modeled new line called Broadminded Clothing
Billiejoretro.com- Modeled pencil skirts, jumpsuit & halter top
Pinuppost.com- Thank you Mike of Protland Pin-Ups
myspace.com/babygirlboutique
myspace.com/pj_von_bows - Created the Mandy Apple Bow for me
- Hair Bows & accessories
myspace.com/domesticminxoriginals - Jewlery & hair accessories
myspace.com/billiejoretro - Clothing for the Rockabilly girl
myspace.com/onekindcouture - modeled 3 dresses
myspace.com/untelligentdesign - T Shirts
http://tommykabat.com/section/64789_mandy_apple.html
- great local photog
Chamberlin Photography
Babe of the day Dec. 10th!
http://champrocks.com/pages/3279733.php … 2008-12-01
Babe of the day Dec. 20th!
http://champrocks.com/pages/3279733.php … 2008-12-01
Babe of the day Dec. 28th!
http://champrocks.com/pages/3279733.php … 2008-12-01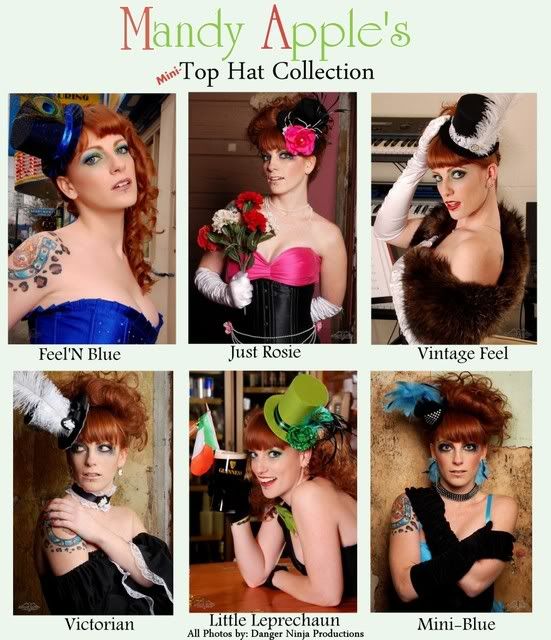 ****SEE MORE OF MY TOP HATS AT MM#1296936****
Yes these are my very own collection of hats I have made, 15 in all so far and making new designs daily. They are selling much faster than I expected which is cool. Let me know if you are interested and I can show you more