Details
Last Activity:
Mar 08, 2018
Experience:
Very Experienced
Compensation:
Paid Assignments Only
See Less
Friends (776)
Lists (1)
Absolutely Professional Perfect Images!
1 Photos
See Less
About Me
Daiane Azura, whom also have been known as Demona Bast...is an experienced professional actress, singer & model for various projects.
Originally from the nation of Brazil being part German and Italian. Also part Native American from the Caigangue & Tupi-Guarani Tribes.
For more info:
http://www.FaceBook.com/DaianeAzuraOfficial
http://www.youtube.com/DaianeAzura
http://www.FaceBook.com/PandoraBlackBand
http://www.myspace.com/DemonaBast
http://www.myspace.com/PandoraBlackBand
Interested in projects such as:
-TV/Film/movies/Commercials/advertizing/Media/Prints and etc...
-Artistic pics
-digital art
-theatrical images
-cyber
-fantasy
-COMMIC BOOKS
-body parts
-full body Art/Paint
-Victorian Times
-Mystical, etc...
Films/Movies:
For more info in her movies...check out IMDB.com :
http://www.imdb.com/name/nm1958264/?ref_=nv_sr_1
2018 - Movies: SyFy TV sequel ~ Nemesis 5 The New Model, Horror~Stirring,Comedy~ Horndogs Beach Party, Suspense/Horror~Home Invasion and more...
2017 - "Innocence Lost" Music Video (Filmed in Sofia, Bulgaria)
Lead role (Character named Faith) in "Descent into Darkness 2"(Battle of the Undead) a vampire series.
Directed by Matt Aldridge from (VAMPING U PRODUCTIONS).
Lead role (Character named Aurora) in "Prison of the Psychotic Damned" Movie/Film.
Direced by David Williams from ( Red Scream Films) & David Kenn from (Dark Side Films).
Also included at the end of the POTPD film credits: The soundtrack song called "Innocence Lost". Which was created by the project (Synthetic Drakness which is Daiane Azura aka Demona Bast (Vocals) & Sonic 14 (Instruments)). Music video is also available...
Music Videos:
The band "WET": Rock/Alternative Album called "My World" ( Lyrics & Vocals: Daiane Azura aka Angel, Bass: Dain Miller, Drums: Rob Rodgers, Guitars: Jasper & JT
- Music Videos available
- Project WET ended in 2002
Solo project "DEMONA BAST": Experimental/Goth/Film/Radio Friendly/Angelic/Dreamscapes,Industrial/Vamp/Ambient/Doom.
A compilation Album called "Vicious Tongues". ( Lyrics & Vocals: Demona Bast now known as Daiane Azura, featuring instrumentals from various artists from around the globe such as Ramiro JeanCarlo (Sitra Achra Project ), Ricardo Santos ( The Downward Path Project), Michael (God Experiment), Sonic 14 (Synthetic Darkness), Cory Wolffman & Mars).
Some Locations of these projects are: Brazil/USA, Germany/USA, Florida, Georgia, North Carolina.
- Present
- Currently looking for musicians to perform live with the "Vicious Tongues" Project.
- To try out &/or For more info:
[email protected]
- Music Videos Available
"PANDORA BLACK" Band: Synthpop/Darkwave/Goth/Industrial. Album "Into The Shadows"released Jan. 7th 2017.
(Lyrics, Vocals & Background Vocals: Daiane Azura, Guitars, Background Vocals: Ricco Black except Lyrics for the All Kings Horses song, Bass: Synn Hexx, Keys/Synth: Ernie Noir).
- Present
- For Booking the Band:
[email protected]
(Will Travel)
- Music Videos Available
Involved in Other Film Projects and Soundtrack Songs w/ Music Video Directed by "Bivas Biswas from (DIB Pictures Entertainment) song called "Day After Tomorrow" & "Leaves are Gold".
- Music Video Available
Stay tunes for more new movies and music coming up soon...
Interested in all kinds of Films/Movies genres.
(NO PORN Films !!!)
*Prison of The Psychotic Damned on Rur-Morgue:
http://www.rue-morgue.com/forums/showthread.php?s=&postid=176753#post176753
Song "Days After Tomorrow" by Demona Bast & Bivas Biswas:
http://www.DIBPictures
.com
**Always open for a new exciting project!**=)
Verified Credits (0)
Worked with Daiane Azura? Share your experience and become verified!
Add Credits
Credit Notes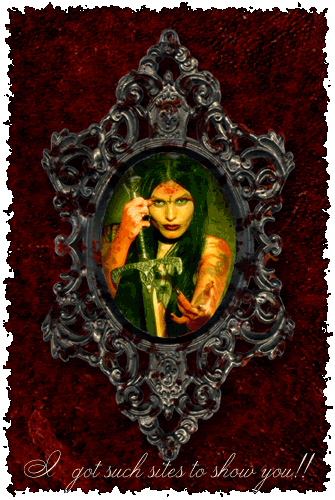 Photographers:
Bivas Biswas from Phoenix AZ.
Ana Maria from Roswell GA.
Angel Miami Beach from FL.
Ramiro JeanCarlo from FL.
Dena Carroll from GA.
Tim Clemons from GA.
VJS from Orlando FL.
Dewayne Flowers from GA.
Steph from Ohio
Steward Noak
Luc Bernier
Isabelle Stephen
Michelle Moreau
Movies: "Descent Into Darkness 2" by Vamping u Productions.Directed by Steph. aka Matt
"Prioson of the Psychotic Damned" is now available for renting and or owning.
An extra on the movie with Jason Lee and other famous actors called "BIG TROUBLE" is a comedy disney movie which is already out in stores.
Music:
-A TripHop tune project song "Day After Tomorrow".
-A Darker tune project called " SITRA ACHRA ".
-A gothic music project that has recently been done with the artist named Shannon B. & Vincent. A 2 songs Demo!
-A 5 year project with WET ,an Alternative Rock Band based in FL which is no longer toguether. We had excellent credits on this album!
- "The Downward Path" project from Brazil with musician Ricardo Santos...a goth/industrial/dark project whcih can be found on myspace.com.
E.zines: Featured at the SCREAM QUEEN magazines .
Featured at the Revennez interview Vampes Fatale magazine, Inmnsonia Magazine with a full article about me, etc...
Fashion shows: Brazil, NJ.USA.
Modeling competitions:Brazil & NJ.USA (Won first place in all)!
Picture Flyears: For a famous Alternative Rock club "CULTURE ROOM" in Ft.Lauderdale,FL.
For agency Vampes.com.
Featured in local radios in USA,BRAZIL,GREECE,CANADA,ETC...
Featured on TV:USA, BRAZIL.
Websites: Demona Bast is featured in world wide websites for all to see.
RATES & CONDITIONS:
Rates are depends of the assignment.
Assignments must be payed in advance, if you are not satisfied with my work you will get a refund. Although my pictures speaks for them selves.
I travel with expenses paid in advance.
Paid assignments with cash or check.Prefer cash! hehe
TFP/CD VERY limited depends on project,out of state must be paid shoots!
NO FULL NUDE!! IMPLIED ONLY!! FULL BODY PAINT IS ALLOWED!!!
NO I AM NOT INTERESTED IN PORN !Sorry!
*Assignments with contracts only.
"I DO SELL PHOTO SETS FOR PUBLICATIONS"
NEWS:
*A store will be open soon with a bunch of poisoned goodies such as: Posters, pics, calenders, T-shirts, movies, CDs, stickers & etc...
For Booking or more info about this model/actress contact via e.mail:
[email protected]
"MANY APPLY..... FEW ARE ACCEPTED" !