Details
Last Activity:
Mar 17, 2011
Experience:
Very Experienced
Compensation:
Depends on Assignment
See Less
Friends (161)
Lists (2)
Me on other pages
6 Photos
Brandy Hope's list of killer photos
0 Photos
See Less
About Me
I'm Brandy Hope.
I am an experienced Underwater and Pinup Model.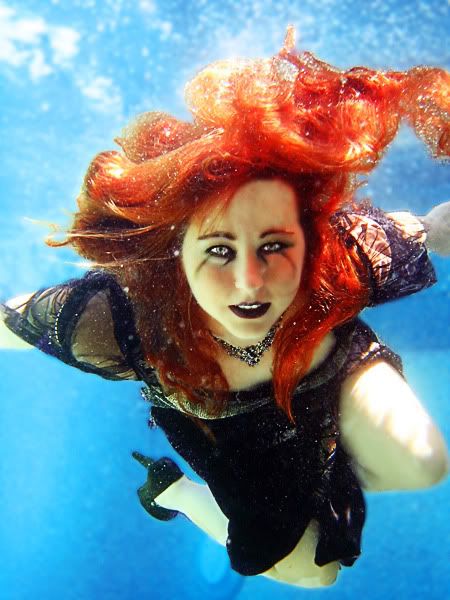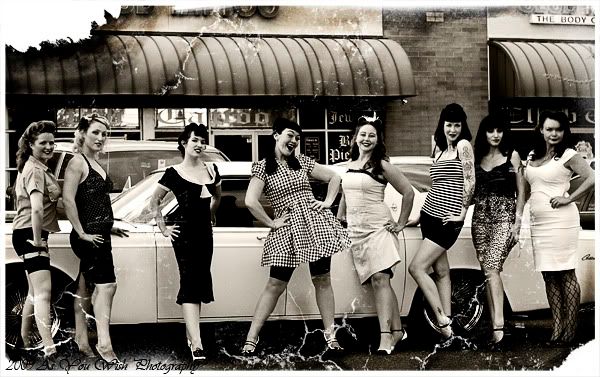 Published in Pin-Up Perfection Magazine August 2009
I am a chameleon, a muse, an artist, a photographer and an animal lover. I can be just about anything you want me to be, but one thing I can't be is a stick figure. I have curves and they look good on me.
I love vintage! You name the era. I'm always up for Old Hollywood Glamour, Pinup, Rockabilly, Colonial, Renaissance, Old West, etc, I think I look like I belong in another time, and can pull off the period piece you're looking for.
I am always up for under water, and digital art/fantasy work. I LOVE animals and would be willing to work with ANY kind you have. Big Cats would be fantastic, dogs, horses, lizards, snakes, monkeys..whatever. I'm comfortable, patient and like most animals better than people. I also have an amazing Weimaraner who will do anything for me and is a great model.
I'm interested in paid assignments, but will make exceptions if I really want to work with you, you have a really great idea, I need something for my portfolio that I don't have, or I've worked with you before and I like you. That said, don't hesitate to contact me, I'm not completely opposed to TF, however it does mean TRADE, which means if I don't get my pictures too, you can bet we won't work together again.
I only do nudes with particular photographers and only paid. I do not do "crotch" shots. If I did not contact you for a nude project, I probably won't do nude with you.
HAIR: It is currently very red and goes halfway down my back.
EYES: Appear blue in some photos, green in others, and I have a streak of brown in my left eye, visible in some photos.
TATTOO: I have 2. A small eye on right thigh about 6 inches down from my hip which unless I'm wearing a swimsuit you won't see. I also have a purple orchid on my left ankle.
PIERCINGS: 2 in each ear. 1 navel
I AM RELIABLE (meaning I show up, I don't cancel, and if I'm going to be late, you will get a call and it will be minutes, not hours.)
In fact, I have had photographers cancel on ME more often than I've canceled on them.
I know that my time as well as yours is valuable, and I don't want to waste it.
I bring to the table:
A dependable, fun, no diva-drama person to work with.
I come prepared to be whatever we have planned.
I can furnish my own extensive wardrobe.
I can do most styles of makeup and hair, but I love working with pros.
I can understand what the photographer's vision is, as I am also a photographer.
I play well with others. I like modeling with others and interacting.
I'm even better behind the camera than in front of it. Check out my photography at http://www.modelmayhem.com/531521
and my makeup artistry at http://www.modelmayhem.com/1322192
Verified Credits (0)
Worked with Brandy Hope? Share your experience and become verified!
Add Credits
Credit Notes
Kanella's Vintage Fashion Show -Tucson, AZ
Pin-Up Perfection Magazine Issue #1 - August 2009
Pin-Up Perfection Magazine Issue #2 - December 2009
Tucson Metromix -
http://tucson.metromix.com/bars-and-clubs/photogallery/meet-the-arizona-voodoo/1396140/content
V-Vintage Model of the Month - August 2009
Pin-Up Perfection Magazine Issue #3 - April 2010
Giuseppina Magazine Issue #2 - August 2010
Photographers I've worked with:
Moduzign MM#123413
Saturn Style MM#3388
Danger Ninja Productions MM#400365 (x6)
Fotographics MM#251527
Study in Light MM#193517 (x2)
Mother Ghost MM#84437
Micah Media MM#541790
The Fresch Klesch MM#380215
Annette Lovejoy MM#509818 (x3)
Rick Lawrence MM#2307
Byte Studio MM#149408 (x2)
Andrew Kaiser MM#1612
Frank DeSantis/Otto Phokuz MM#29329 (x2)
HYPNOX MM#369
NinaS MM#224
David Rolin MM#4765
Ambient Light MM#103898
Tony Maxymillion MM#384871
Morning Light MM#11665 (x3)
FAS Studios MM#184549 (x2)
Coffee For Drew Production MM#599499
Marian Lane MM#185110
Studio AM MM#97677
Leanna's Reflections MM# 351629
S A Martin Photography MM# 625201
Dudley Watson MM#1950
Ankeny Street MM#368351
Classic Rock Photos MM# 250740
Boyd Photo Portland MM#532074
MA Photography MM#110280
Scott W Photography MM#115569
Chrisphoto MM#28162
Mister Graves MM#666584
CheaStudio MM# 630505
RLR Photography MM# 57155
Penny's Photography MM#339035
JonMarshall Photography MM#675451
EyeCatchers USA MM#228583
John Green MM#470471
West8Photography MM #603271
Slayden Photography MM#727710
Classick Productions MM#1168202
SgImagesPhotography MM#1094179
Deee-liteful Images MM#378772 (x3)
Justbcuz Studios MM#491392
Makeup Artists:
Sabrina Cayne MM#334131 She can do ANYTHING!
Antiorder Allure MM#423434
Time Honored Designs #115027
Marian Lane MM#185110
Studio AM MUA MM#466639
Hair by Xandir MM#730459
Clothing/Wardrobe Styling:
Rukus Clothing MM#600385
Lady Luck Vintage
Leanonsidhe Reminiscent MM#197269
Make Believe Costumes
Other Models I've worked with
Mimi Brown MM#124818
xJezabelx MM#80136
Samuel-james MM#423938
Melody Paige MM#411065
Brenda Lee MM#688009
Amber De-Lish MM#732627
MS Jo MM#732935
Penny Fontaine MM#744841
Charlotte De Berry MM#1163431
The Wendy Variety AZ MM#207630
Jenacide - Jena MM#1071993
August 22 - Kanella's Fashion Show