Details
Last Activity:
Dec 24, 2015
Experience:
Very Experienced
Compensation:
Depends on Assignment
See Less
Friends (1640)
About Me
- Travel Notice -
None at this time.
* Please note that although I have LA & NYC listed as cities, I am based out of MIAMI.
"You only get out of a shoot, what your willing to put into it!"
...with that said I never
[email protected]
$$ anything and always go into it full force willing to give my all... otherwise I just won't do it plain & simple. I only wanna work with people who have the same mentality.
Yes, I know my profile is long. If your asking me to invest my time into you, you can invest 5 minutes to read it, it's well worth your time. In the end it will save us both time from going back and forth with questions already answered here. Marinate on that thought for a bit...
Each section is tabbed making it easier for you to find the wisdom you seek, but here is a quick Cliff Note brake down for you ADD types:
Most importantly: No Porn - No Hustler/Penthouse type shots - No Escort Gigs
Next, it seems like everyone wants to throw me into an itty bitty and put me in front of the lens. This does nothing for me but give me more pics for guys to drool over and bombard me with moronic comments. After looking through my port it is obvious I can pull it off no need for more so unless your publishing me or paying me don't ask to TF* me for this. I have my select people whom I trust and have worked with so when I need more I will go to them.
I am a creative soul and an artist at heart so I need to feel stimulated in that department... excited to take on, not bored. The cooler the concept the faster you have my devoted attention. My passion is in fashion and themed (not cheesy) shoot concepts. Let toss around ideas and come up with something amazing. I have several awesome concepts I'd love to do ask me about them and if I feel your photography can produce that we'll talk shop. No bait and switch either. Be upfront with your intentions right off the bat.
Regardless of the shot, no shot will be done without a make-up artist and hair stylist on board... this is a deal breaker here folks. No I am not saying this because I am horrid. I am saying this because I have seen what a professional can do vs myself and lets not kid ourselves... they come packed with an arsenal of make-up and have been trained on how to use it. My make-up looks great for in person promo work, but on film after professional lighting is set up, let's not waste our time on a great shoot concept without the proper elements in place.
I only seek to work with the most talented and best in the industry to keep the quality of work I put out exceeding the expectations of myself and the client. I won't shoot with you just because your paying IF your work sucks, I don't need crappy images of me out there like that! I want to be asked for by name "I want to hire Amanda Newton" not "let's go find a model to hire." I want my work ethic and caliber of work to outshine the rest and create a lasting impression.
~~ IT'S ALL ABOUT QUALITY NOT QUANTITY FOR ME NOW ~~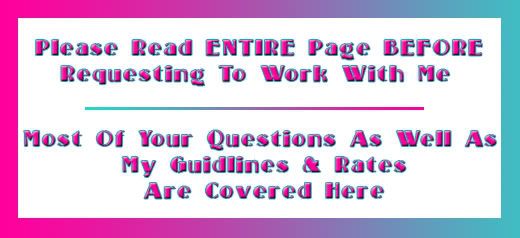 I took a lot of time to to cover just about everything one would need to know below because I do not have the time anymore to keep responding to the same questions over and over again. Plus, I'€™m sure you will appreciate everything laid out up front so that we are on the same page and you do not waste your time and I do not waste mine. I am big on communication, and respectful of your time, so I need the same in return from you ;-) This is one of my biggest pet peeves on here.
_________________________________________________
Hello My Fellow Mayhemers,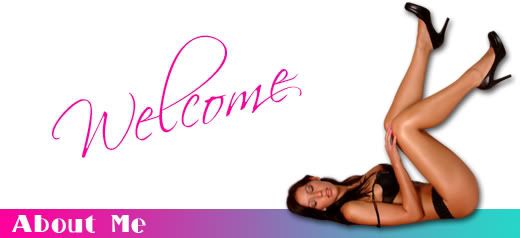 I was born and raised in South Florida. I am half Polish and the other half is a mixture of English, Irish, & Italian. My eyes are usually hazel but change to green sometimes. I have a B.S. in graphic design and I also enjoy photography. I run marathons and compete in triathlons. I do a lot of 5K's for charity as well as volunteer with my dog doing pet therapy. I'm trained in dance (ballet, jazz, tap, & hip-hop.) I have done martial arts before and pretty much played every sport possible.
I am extremely professional and I would expect the same in return. I am dependable with a good sense of responsibility, if I say I will do it I will. I have a great personality and sense of humor. I'm a lot of fun & easy to work with. I take direction extremely well, and half the time I already know before you say it and just do it. I am a trooper and good sport, so you won't have a problem with me whining about things. Every photographer I have worked with thus far would provide a positive recommendation, and I have never been a no show. In fact, I've saved several @$$es filling in last min for the flakes.

I'm pretty much available & open to all modeling. I am extremely versatile. I can pull off just about anything you can throw at me. However, I WILL NOT do porn no matter how much $$$ so don't even bother me with that.

This includes stills as well as video... girl on girl, girl on guy, insinuating, toys etc... NADA NEVER! I'€™m here as a model not a pornstar! Which is why I draw a very strong line due to my physique when shooting nudes. As far as nudes go, if it's not tasteful or artistic, I won't do it period - and even that is very limited. I do not do Hustler/Penthouse type stuff meaning spread eagle here it is come and get it boys - NO! I will not do naked crotch shots, must be covered somehow or at some sort of angle, shadowed or cropped out - NO EXCEPTIONS! If you look at my nudes in my portfolio, they are elegant, classy, graceful, etc - not trashy. I do understand that sometimes while shooting nudes you can accidentally capture it, these are never to be used ever and should be deleted. Hard drives and/or Computers get hacked, stolen, etc all the time and the best way of assuring these pics never surface is by deleting them and not saving them for "€œyour viewing pleasure" later€ or for examples to show other models/photographers. These accidents€ never have my permission to be used, so therefore there should never be one of those anywhere, if so you'€™re in big trouble!
My schedule and availability fills up very quickly. Generally, I am always booked at least two weeks to a month already, so the chances of getting in before then would depend on cancellations or rescheduling. The more in advance you can notify me the better. I can always try and rearrange things if it is an extremely time sensitive matter, but I try not to do this to people as I know how much it can mess up a person€™s schedule and mine. So with that said, please keep that in mind when canceling or rescheduling on me, it won't be able to be right away, especially if it involves long distance traveling (anything 1.5 hrs away or more.) I always arrive on time (except for unforeseen things I cannot control such as accidents on the road etc) so I'€™d except you to be running on time and prepared as well, as I most likely have another shoot to get to after yours.

Hair: I know how to blow dry and flat iron it, that'€™s it. Although I do own these items, I have no clue how to use curlers and I am petrified of frying my hair off with a curling iron, as this is not my field of professionalism - they have professionals for this reason.
Make-up: All I know how to do is a very natural look. Any sort of dramatic, colorful, artistic, or even the use of fake eyelashes you will need to bring in a MUA.
Wardrobe: Just about everything I own I have already done a shoot in. So if you want something different you will need to provide that.
If you want/need anything other that what I am capable of doing or providing you must make sure to provide it. I can find one for you (but I do not control their rates, that is separate.) If you choose to provide the hair and/or MUA, they must know what they are doing. I would prefer that you have used them before and can trust their professionalism and results. If they have a MM or OMP page please send me their # and/or a link to their website. Also, if you chose to alter my appearance such as hair extensions, hair coloring, nails other than French manicure, etc, you must be able to put me back to my original appearance.

***** Seeking 99% PAID work & 1% TF* - not the other way around *****
As far as booking goes, my rates are fairly reasonable in conjunction with the amount of experience I have and quality of photos I output. My photos require very minimal amount of retouching, and as an added bonus I know photoshop to an advanced level and can retouch them myself if need be. I am willing to travel anywhere as long as all expenses are paid and I do have a Passport. Thanks to the many wonderful photographers I have had the opportunity to work with my portfolio is very extensive, so there is no need for TF* anymore.
My rates are broken down as follows:
$75/hr -€" Fashion
$100/hr -€" Implieds, Bikini, Lingerie
$150/hr - Nudes (See Guidelines & Strictly Enforced)
Half & Full day rates are available.
Video, TV, Movies, Commercials, Music Videos, Expos, Appearances, etc are available and handled on a case by case basis.
All rates come with a 3 hour minimum, 4 hour minimum if you are 1.5 hrs away or more in travel time. Anything 2 hrs away or more will require an overnight stay in a safe reliable hotel. All travel expenses such as transportation and lodging must be paid for and confirmed in advance before I even step out of my house. No model release will be signed until your payment has been received and cleared. Acceptable forms of payment are a company check or cash. You have a model release for me to sign covering your rights, as well as do I. You must sign mine for me to sign yours. I retain the right to bring an escort if I so should choose.
I ask that you pay me up front before we begin. I have been disappointed way to many times.... sorry hate them not me. So unless you want that to be on the back of my mind which will show in the shoot, I suggest that you eliminate my hesitation.
On a side note: I have been scammed before and even put into a compromising situation several times with a rapist/pedophile/predator. One of which has been wanted since 1998! I am happy to say due to my quick team work w/ another victim of this $h*tbag, we were able to set him up and have him arrested and taken off the streets within 24 hrs. The saying €œWhat doesn'€™t kill you makes you stronger€ couldn't be more true in this situation. I am no longer a "newbie" naive model. So don't act surprised or offended if I question your legitimacy, ask for references, or bring an escort. I have learned a great deal from these experiences and without going into further detail, as I shouldn't even have to explain my reasoning, I think you can understand where I'm coming from. If you are of any legit professional you will be more than willing to provide such items and encourage my safety. This definitely applies if I have not worked with you before.
O.k. this is the section I have had to revise and revise several times already. Apparently being nice doesn't work anymore in regards to TF* so this is the only section where I guess I might have to get more blunt.
It seems as if everybody nowadays just wants TF*€™s from me for everything under the sun, or exceptions to my TF* rules. Look your requesting to work with me because you have either seen my portfolio and like what you see, or you have herd of me because I am a great model to work with yada yada. You obviously think I can benefit your portfolio in some way with the use of my images or name, but the question also is can I benefit from working w/ you as well. For some reason that question keeps seemingly getting forgotten and that is the sole purpose of TF* work. So I guess it is necessary to brake it down to you like this. Sorry if this seems a bit harsh, but the requests are getting out of hand ridiculous, and then having the audacity to be offended or rude to me about me simply saying I'm sorry but I am not offering TF* for this and to please see my rates.€ Look, I have been in this industry long enough coupled with my background in the creative field as a graphic designer/photographer/marketing/advertising etc and know raw talent when I see it.
The purpose of TF* work:
#1.) Is to either build or revamp your portfolio.
#2.) You have a bunch of free time to devote to as a hobby or side project. I barely have time to sleep right now. Modeling is my only job, my only source of generating income. Modeling is not a hobby or a side thing for me, I do this full time or I should say over time and take it very seriously. If you devote time & effort working, do you not except to get paid? You'€™re paying your bills, and I need to pay mine. If an employer misses one hour in your paycheck, you know your butt is walking into your supervisor'€™s office right away to adjust their miscalculation. Until banks accept cute clothes, make up, accessories, or pics as forms of payment - I need to be paid in good old fashioned cash.
#3.) If it benefits you in some sort of way. Benefits such as do not currently have it in your portfolio. Please note, for example, shooting in the same bikini but in a different location, does not constitute €œin a different way.€ Adding more of the same stuff doesn€™'t have any benefits. I have more nudes, implieds, lingerie, & swimwear than I know what to do with. I will not shoot in the same outfit for TF* work. Please provide a stylist or clothing.
#4.) It gains you exposure or status. Unless you are of some high up there prestigious well known person/ photographer/ publication etc. Where saying I worked with or for such and such that 4 out of 5 people would be like, €œOhhhh, yea I know who your or what you'€™re talking about€ that would rise you up a little more in the industry, does not really count. Just by having your image on just another persons page does not really make that much of a difference. Or a start up anything that hopes or is projected to take off and do well, unless it's already up and running and doing well, doesn't really count either.
I have put in my fair share of TF* time of running around all over the place like a chicken with it'€™s head cut off not making a single dime, not being able to pay my bills, and digging myself into a deeper financial hole hitting rock bottom. It took me a lot of time, sacrifice, dedication, and patience to get to where I am today. I never have and still don'€™t have anyone helping me make this happen, and everything I have accomplished I have done through my own pro-active approach and determination. I know what it means to work hard and to try and make everyone happy. I have worked myself sick literally, and to exhaustion and burn out. I have never worked so hard for no money in my entire life. I am proud of where I am today because of it and the name I have established for myself all on my own. I am glad that all this has finally paid off, and I still continue my strong work ethic. I'€™m here on Model Mayhem to move onto better projects and bigger opportunities, not to start up a modeling career or build a portfolio. The whole point of progression is to move forward not backward, so I follow through with this concept when choosing what projects to work on.
Due to all the nonsense I have experienced with waiting on or never receiving my images for a TF* shoot. I now require my images right after our shoot on a CD unless a different time frame was agreed upon prior to shooting. If we are on location, you have 1 week to get me my images. I am not going to play games or chase you down anymore, simply put your @$$ will appear on my website for the world to see as well as here on a Black List so others don't make the mistake on working with you just to waste their time and effort just to be let down in the end.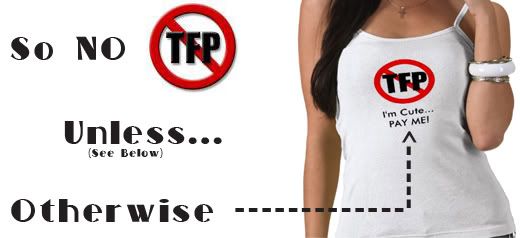 Yes, I actually made this graphic, so if you have this on your page, you are copying me! Be original!
Generally, I'€™ll only consider TF*s if your are offering a guaranteed cover or tear sheet, or I contact you. Promising, hoping, or submitting is not guaranteeing. Doing a TF* shoot does not mean time to get cheap w/ everything, you still want this to be as great of a quality of a shoot as possible. I'€™m giving you my shooting time as a model for free and you yours as the photographer. This means that everything else should still be on point and have a HMUA in place as well. Keep in mind if it is not of the same if not higher caliber of work I am currently doing, it is of no benefit to me, so therefore you must pay for it since you are the only one benefiting from it. My portfolio is not a catalog for you to pick or choose something you like and then ask to shoot that idea for yours. Duh! I already have this in my portfolio, so you will have to pay for that shoot. Also, TF* does not mean it's time to take advantage of my time and kindness. I limit my TF* work to 2 hrs 3 at most, expecting me to work some sort of crazy half or full day for free is absurd.
However, if I do choose to work with you on a TF* basis, you will have to compensate me for all my travel expenses. Depending on the time of day, also a healthy lunch or dinner. All TF* must also provide hair & make-up. If you cannot give me the CD before I leave the shoot (which is o.k.... I understand this is not always possible) I do require that it is sent to me within 5 days. My time for TF* is extremely limited close to none. I wish I had more time to work with you, for I am extremely passionate about what I do. I'€™m just kept way to busy nowadays, with a close to impossible schedule. Please don't keep sending me messages begging me to work TF* with you. There is no need to keep trying to convince me or ask for exceptions. I'€™ll know within 5 minutes of looking at your page and pics if there would be of any benefit to working TF* with you. If you cannot comply with my TF* rules, don't ask. As much as exposure and/or offering me to keep the clothes I shoot in is great, is does not in fact pay the bills. I have to be WOWed€ by your portfolio or feel extremely passionate about your project to agree to TF* with you. For the most part you must meet this criteria, but I also do understand the whole logic behind you don'€™t want to miss a good opportunity when one presents itself€ deal. So give it a shot, you never know, just don'€™t argue - compromise with me.

All my images are never to be used for any kind of pornographic publication or website ever. All images must be approved before uploaded to your portfolio. If you wish to use my image for anything other than your portfolio (contests, submissions, etc) you must ask and have written permission from me. I generally do not mind and typically encourage it, I just would like to be kept in the loop with what'€™s going on, know what images and where my stuff is being used. I need to get credit to. Also, if you are going to make money off €œour€ images, as it is a team effort, I expect to get paid too. If my images are for anything other than what is stated above, it must be specifically outlined in the release and/or contract. Some of my photos can easily be twisted and used for content that is not approved of, I never have and never will shoot this type of content. So therefore, If any of my images appear on anything other than approved websites that I have given permission to, they have been stolen without permission from me or photographer, and they are responsible for any legal repercussions that follow because of it. Not only are you possibly tampering with my reputation, but also copyright issues with the photographer, neither one of which is appreciated nor tolerated and you should know better. This might be a huge network, but it is a small community and word gets around real fast. Either I will find it myself or someone else will and bring it to my attention. It'€™s all sensible common sense stuff, but I do know you sometimes have to spell it out for some people, as they try and be slick about things.

Thank you for reading this entire page, I know it is lengthy. When sending me a message requesting to work with me make sure you include as much detailed info about the shoot as possible to save us both time - especially the following. If this helps just copy and paste this into your message and just fill everything in:
*Location(s): (Exact full addresses, I will need to Map It)
*Date(s):
*Time(s):
*Compensation: (See Rates and/or TF* guidelines)
*MUA & Hair: (Is it provided or do I do my own? If provided what is their MM or OMP # and/or link to their website?)
*Wardrobe: (Style of shoot: implied, fashion, lingerie, swimwear, etc... is it provided or do I need to bring my own?)
*Client: (If not for your portfolio, who is this for? If available please provide their website and/or contact info.)
*Usage: (What, where, and how often is this going to be used)
*Your Name:
*Your phone number:
*Your e-mail:
*Your links: (either website, social media etc...)
Please keep in mind I confirm all projects the day before, you must confirm with me as well or I will not just drive out there for no reason. I also must speak to you by phone to go over the project before I agree to anything.
Well, hope you have a great day and enjoy my pictures! Don't forget to let me know what you think
Take Care & lets make some awesome images together!
I like to stay as networked as possible so make sure to visit me on these other pages/sites and friend request me.
My Personal Website:
http://www.AmandaNewton.com
(currently in the process of rebranding..)
My Facebook link is:
https://www.facebook.com/AmandaNewton.CreativeNERDinHEELS
My Twitter link is:
http://twitter.com/AmandaNewton
My Instagram Like is:
http://instagram.com/creativenerdinheels
My YouTube Link is:
http://www.youtube.com/OfficialAmandaNewton
If you have sent me a message and I have not replied to it yet (even if it shows as read€) I'm not ignoring you. I get a massive amount of e-mails and requests from all my different accounts and can take a few days and in some cases a week or so to get back to them all. I sometimes only get a chance to read them and not reply immediately. So please don'€™t keep sending me a message every day about a response, I find this extremely annoying and rude, especially if it is a TF* request. If your TF* you have to work around my paid schedule. Unless it is an emergency or a last minute job offer, there is no need for that nonsense. I do suggest if it is an emergency/ important/ time sensitive matter you put that in CAPS in your subject line.
I appreciate all your comments and feedback. I try to get back to most of them, however it is impossible for me to return them all. I see tags more easily than picture comments / lists because I would have to go through each and every image one by one and this is very tedious and time consuming task. However, I do eventually see those as well
If it is a reply or answer you seek, I advise you to send that as a message I will see that quicker. I do apologize for any inconvenience this may cause.
My direction for 2011 and beyond is to focus more on the fashion & fitness industry, so this means "T&A Glam" shoots will be highly limited.
Verified Credits (0)
Worked with Amanda Newton? Share your experience and become verified!
Add Credits
Credit Notes
With all the numerous modeling sites out there and new ones popping up everyday, it's becoming time consuming to keep updating each and every one every time I have something new to add to my resume, credits, or testimonials.
So now I have decided to just keep the one on my official website updated and send everybody there if you really need to view it.

My full up to date resume can be found here:
Currently Updating
My full up to date credit list can be found here:
Currently Updating
I generally as a rule of thumb request one of these from every one I have ever worked with to show I have nothing to hide =)