Details
Last Activity:
Aug 14, 2015
Compensation:
Depends on Assignment
See Less
Friends (2338)
Lists (45)
Absolute Favorites
203 Photos
Absolutely Flawless
44 Photos
Absolutely Perfect
35 Photos
Absolutely Perfect Legs
9 Photos
Absolute Perfection
268 Photos
All-time Favorites
100 Photos
Amazing Portraits
41 Photos
Amazing seated poses
3 Photos
Artistic Beauty
138 Photos
Artistic Perfection
35 Photos
Beauty Beyond Belief
67 Photos
Beyond Description
58 Photos
Classy and Artistic
7 Photos
Exquisite Beauty
10 Photos
Exquisite in Nature
1 Photos
Fabulous Artistry
5 Photos
Fantastic curves
44 Photos
Flawless Beauty
159 Photos
Great perspectives
32 Photos
Images that leave me speechless
12 Photos
It Catches your eye
54 Photos
It's the eyes that captured me
32 Photos
Look at those eyes... *sigh*
42 Photos
Models I'd love to see in my Clothing
81 Photos
Models I need to see in my Designs
12 Photos
Native American Beauties
26 Photos
Natural Beauty
144 Photos
Poses that Wow!
45 Photos
Reserved for the Exceptional
14 Photos
Sexiest Leg Shots
202 Photos
Sexiest leg shots 2
11 Photos
Some of my Favorites
124 Photos
There are no words
22 Photos
Wonderful Series
27 Photos
You leave me Speechless
133 Photos
See Less
About Me
"One should either be a work of art, or wear a work of art."
Oscar Wilde
Feel Free to check out the link above on Indigenous Fashion.
First and foremost...
Would like to thank Scott Johnson for allowing me to use is amazing photographic skills on my Designers Portfolio.
As well as Stiliana for her modelling skills.
3rd Annual Wikwemikong Fashion Show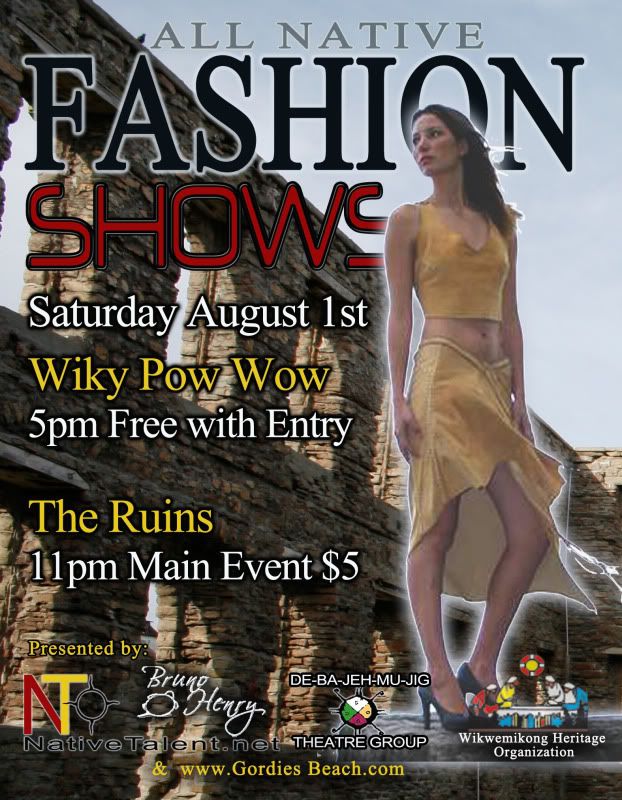 Mississagua First Nation Fashion Project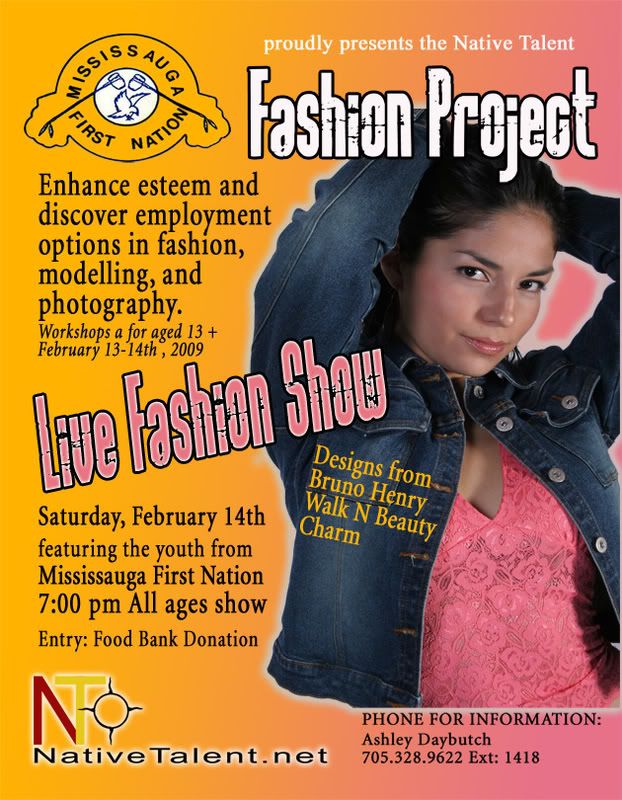 My comp card image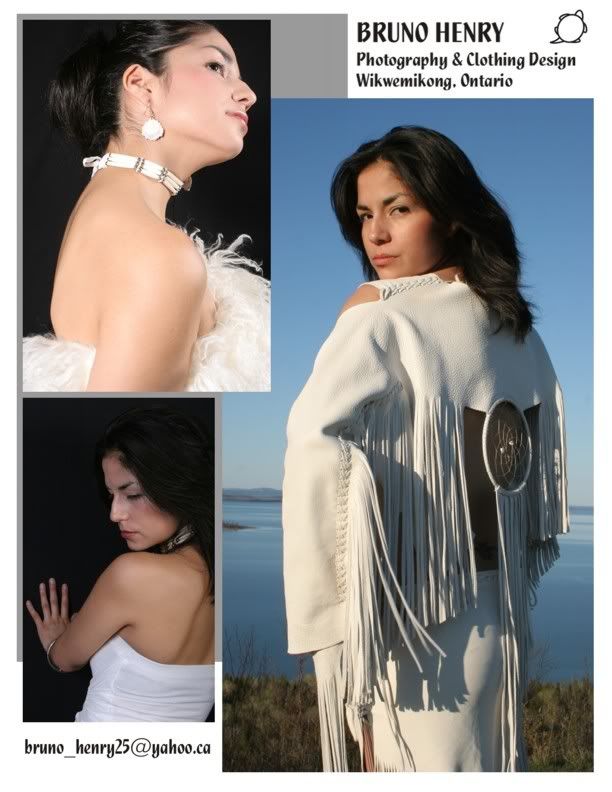 I look forward to working with more models and photographers on here with my designs.
L'Oreal Fashion Week, FashionNation with Northern Styles
Fashion show and seminar Wikwemikong, Ontario.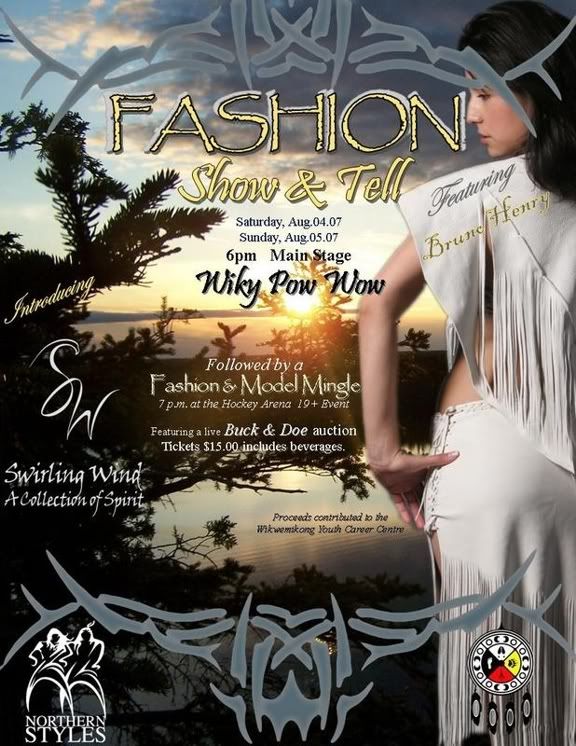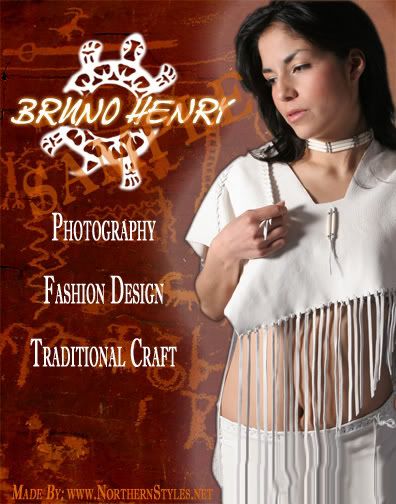 "Say Magazine images"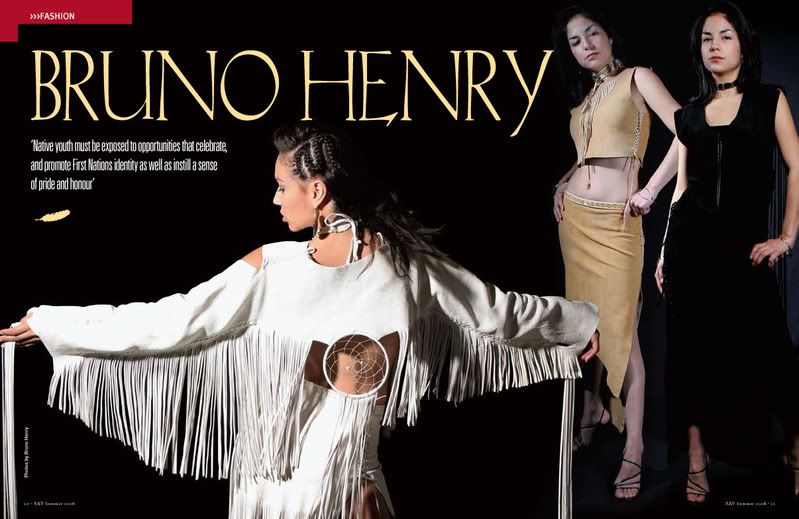 Biography in "SAY" Magazine Summer Issue 2008
Originally from Six Nations of the Grand River in Ontario and now living in the Wikwemikong Unceded Indian Reserve, nestled on the largest freshwater island in the world-Manitoulin Island Ontario, (First Nation) artist Bruno Henry continues to bring his artistic visions to life through photography, clothing, jewellery, stone carvings and other various crafts.
Described as a self-taught artist, inspired by the traditional look of our Native ancestors, Bruno is known for his classy and creative blending of modern adaptable styles with ancient designs and symbols. Most of his custom fit clothing designs are created using traditional materials like moose and deer hide stitched together using leather stitch-work instead of thread or sinew. Accentuating his designs are cotton and wool (clothing pieces) with embroidered artwork (of his own designs).
Sharing these unique creations with people has been a dedicated journey for Bruno. He has visited numerous communities locally, provincially and nationally, making new friends and networks along the way. His most recent showings were during the Top Native Model search at the 2007 CANAB Festival in Toronto and (the L'Oreal)Fashion Week (March of 2008) also in Toronto. Although significant in his continued journey, Bruno recalls other shows as, most memorable. The first being his big start in the fashion industry, an opportunity provided by FabOriginal Model Management (Barrie, ON) who showcased his clothing line at a prestigious show at Casino Rama (at the Mijikaning First Nation) (in feb of 2007). It was through this show that he was first exposed to the impacts and true tough realities of the business side of design and fashion. And on a the lighter side of the industry, Bruno recalls one show that had a more powerful, personal impact the Wikwemikong Cultural Festival August 2007, organized by Northern Styles (based out of Toronto?) and the Wikwemikong Youth Career Centre. For Bruno, this event was not only a venue to showcase his work but also to directly involve Native youth as models and volunteers. This gave them the chance to experience confidence in themselves, to tap into those untapped talents and gifts within. (I can't say it it enough and how important it is for our Native Youth to keep our identity as First Nations and be proud of our Heritage. This is where I feel I can help them, be it with mentoring them as up and coming designers or helping with thier self-esteem through my photography.)
Providing positive opportunities and experiences like these, for and with his people, is what motivates Bruno to push hard in the highly competitive arts and fashion industries. His dream is to have his clothing designs hit the mainstream fashion runways nationally and abroad as well his photography and other art/craftwork seen worldwide.
~~~ I first started designing about five years ago after a friend requested me to design her an outfit out of leather. I found I had a liking to it and began sketching designs and started looking for the best quality hide available. The newest pieces are not only a garment or a clothing design but some refer them to a piece of Art. Some of the design I have created are two and three designs in one. I like using fringe work in my designs and try to incorporate them when ever possible. Designing clothing out of leather is quite a delight for me and if I can pass on my gift to our youth it will be an even bigger gift I am sure. Maybe even take a broom and sweep them along with me.
Verified Credits (0)
Worked with Bruno Henry Clothing? Share your experience and become verified!
Add Credits
Credit Notes
Various Fashion shows throughout Canada and the USA, many shows in Ontario and Quebec.

***EVOLVE: Envision the Spirit that Evolves the Style***
Vancouver, British Columbia - Feb 2010

A Bee The Change Aboriginal Arts Society Presentation

Designers included....

CEDAR & BERRY - GLORIA CARDINAL
RINGING BELL ROBES - LINDA KAY PETERS
SWIRLING WIND DESIGNS - TRACY TOULOUSE
REV/EVO FASHION - NADINE SPENCE
BRUNO HENRY DESIGNS
DISA TOOTOOSIS
TIMELESS SHADOW - TRACEY GEORGE HEESE

Models I have worked with or have been photographed in my Clothing Designs.

MM# 236769 --- Clara Bell
MM# 776617 --- Theresa Waagosh
MM# 1147047 --- Rae Drouillard
MM# 1487160 --- D-S
MM# 1847810 --- Metisgirl
MM# 253181 --- Dar_Lin
MM# 1274952 --- Tahnee Elk
MM# 1628990 --- Jae Cali