Details
Last Activity:
Jun 16, 2014
Experience:
Very Experienced
Compensation:
Depends on Assignment
See Less
Friends (696)
Lists (2)
Images of Intrigue
3 Photos
Work I've Done....
8 Photos
See Less
About Me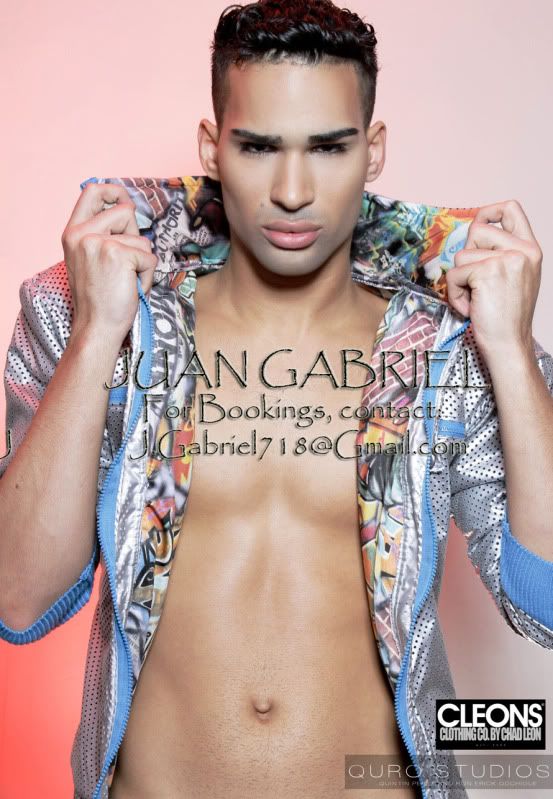 http://www.youtube.com/watch?v=gTBpRE2oViQ
Hello Model Mayhem. My name is Juan. Born in Rio Piedras, Puerto Rico and raised in the Bronx. I have many goals and ambitions. One of these is to become a successful male model.
My style is New York. From urban street wear to high fashion Avant-Garde. New York City' is melting pot of fashion, style & entertainment. It has given me the confidence & look to take this Industry by storm. I genuinely love what I do & look forward to working with others that share my passion & drive.
Why do I want to be a model and reach the highest level of the fashion business? I want to be a model beacuse I love the art of creating imagery. The fashion, the locations & the amazing people you meet along the way are just part of the experience. Work & dedication goes into everything I set out to do. After all....this is a business. With that said, lets get to work.
Primary Work Interests Include:
- High Fashion/Editorial
- Commerical & Lifestyle
- Catalog
- Casual & Artistic
- Runway
- Television/Film
For bookings, please e-mail me at
[email protected]
Verified Credits (0)
Worked with Juan Gabriel? Share your experience and become verified!
Add Credits
Credit Notes
~PHOTOGRAPHERS~
ANTHONY JAVAUGHN #66131
MG OANIA #386504
CASEY NOEL #443349
CAMERAMAN K #541060
RICK LOUIS #447350
JO LANCE
http://www.jolancephoto.com
JAKOB #662230
RIDWAN #169314
http://www.ridzdesign.com/creative/index.html
DONNELL LANKFORD #805459
RAY BROWN #532821
http://www.rayvincentefashion.com
RYAN BEVANS
http://www.ryanbevans.com
CARLOS ARIAS #148106
SAILEY WILLIAMS#448034
http://www.saileywilliams.com
K. ANTONIO #1305261
JAY ALEXANDER #1554606
http://www.thejayalexanderexperience.com
WINSTON LEONARD #64458
http://www.winstonleonard.com
SHAWN PUNCH
http://www.shawnpunch.com
COREY KO #1480749
http://www.coreyko.com
SETH LONDON #1669397
OZKAN BALK #1058064
JERRIS MADISON #24544
http://www.jerrismadison.com
QURO STUDIOS #1907522
http://www.qurostudios.com
KEVIN B. WINEBOLD
THOMAS EVANS
http://www.thomasevansphotography.com
NICHOLAS MORIN
http://www.facebook.com/media/set/?set=a.170901043001207.40712.100002439374215&type=1
~WARDROBE STYLIST~
DOUGLAS HICKMAN JR. #1233591
OMAR ALEXANDER
http://www.byomaralexander.com/
~DESIGNERS~
EDWIN D'ANGELO
http://www.edwingdangelo.com/
SDPMV NEW YORK #1252388
http://www.sdpmvnewyork.com
#1351674
CLEONS CLOTHING CO. #641168
DRAMATIK FANATIC #1801776
STEVIE BOI
http://www.stevieboi.com/
COREY LEE
~MAKE-UP~
YEIKOV COUTURE #298881
ANDREY BARRANTES #1010659
http://www.andreybarrantes.com/
MARIA ORTEGA #1615757
http://www.mariaortegamakeup.carbonmade.com/
YUUI OGAWA
http://yuuivision.blogspot.com/2010_11_01_archive.html
TARA PAGLIARA
http://www.tarapagliara.com/
~EVENTS,RUNWAYS, ADS, & CAMPAIGNS~
Edwing D'Angelo fashion show '06
NYC College of Technology fashion show spring'06
Secret Society ad campaign summer '08
Symphony of Fashion Runway Show Fall '08
House D'Padro Fashion Show Spring '09
The Masquerade Ball Fashion Show Winter '09
Doubt 2 Reason magazine cover Spring '10
http://www.doubt2reason.com/index.php
Serenity Entertainment Fashion Show Spring '10
The Ray Vicente Menswear Showcase Summer '10
http://vimeo.com/12868300
XEX Magazine issue #4
http://www.xexmag.com/xexpose-jeremy-xtravaganza/
http://www.sdpmvnewyork.com
CLEONS CLOTHING Campaign Fall '10:
http://www.youtube.com/watch?v=xHlSNKk_DSI
SUAVV.COM-HIGH VELOCITY: CLEONS CLOTHING CO FASHION SPREAD
http://suavv.com/2010/09/high-velocity-cleons-clothing-co/
Dramatik Fanatic Fashion Show @ Born Genius Music & Fashion Showcase Fall'10
OBVIOUSMAG.COM: "MAD ABOUT PLAID" SPREAD winter '10
http://www.obviousmag.com/2010/11/mad-about-plaid/
CLEONS "Pop Art" Fashion Show Campaign Winter '10
http://www.youtube.com/watch?v=DXu6n5FYIM0
http://www.youtube.com/watch?v=iwdma6AxSy0
CINHTE Magazine Tear sheet for CLEONS Clothing Co Winter '10.
http://cinhtemagazine.blogspot.com/2011/01/second-issue-of-cinhte-magazine-in.html
Rock Asylum Music/Fashion Event @ Canal Room,NYC Winter '11
Grazia Magazine Homage to Studio 54 winter '11
http://www.graziadaily.co.uk/fashion/archive/2011/02/09/behind-the-scenes-at-grazia-s-extravagant-studio-54-shoot.htm
Stevie Boi's "Coexist" Fashion Show @ Le Souk Harem, NYC Winter '11
http://www.facebook.com/album.php?aid=272784&id=501488794&fbid=500814468794
CINHTE Magazine Tear sheet for CLEONS Clothing Co Spring '11
http://cinhtemagazine.com/
SHOUT OUT concert for out artists @ Industry Bar, NYC summer '11
CLEONS POP ART Fashion Show, Chicago, IL Summer'11
http://www.youtube.com/watch?v=tqcPuy8wnls
Corey Lee & BoyRio for "Fashion Fighting Aids" Fashion Show At El Moroccos, NYC, Winter '11
http://www.youtube.com/watch?v=F4juv0GJTuo
http://www.youtube.com/watch?v=EKEhcUYkrok
Stevei Boi "54" showcase & after party Mercedes-Benz Fashion Week NYC 2012
Boy Rio for "Fashion Fighting Aids" Fashion Show at El Moroccos, NYC summer 2011
CLEONS CLOTHING "Destruction" Fashion Show, NYC Fall 2012
http://www.youtube.com/watch?v=oKViY7DW4ys
CLEONS Clothing for Uptown Fashion Week 2013
~FILM & TELEVISION~
Extra- "Hurricane" music video by: Thirty Seconds To Mars Fall'10
http://www.youtube.com/watch?v=3RLwuDQSkDI
Extra- "BURNING BLUE" Fim writer/director David Greer, Producer Michael Goodin Winter '10
http://abclocal.go.com/wabc/story?section=news/entertainment&id=7871429