Details
Last Activity:
Dec 27, 2017
Experience:
Very Experienced
Compensation:
Depends on Assignment
See Less
Friends (199)
Lists (4)
Retro Air and Track wish list Europe
3 Photos
Retro Air and Track wish list UK
6 Photos
Retro Air and Track wish list USA and Canada
3 Photos
See Less
About Me
*****************************************************************************************
*****************************************************************************************
Recipient of the Vintage Aircraft Club of Great Britain Photographic Trophy 2013.
*****************************************************************************************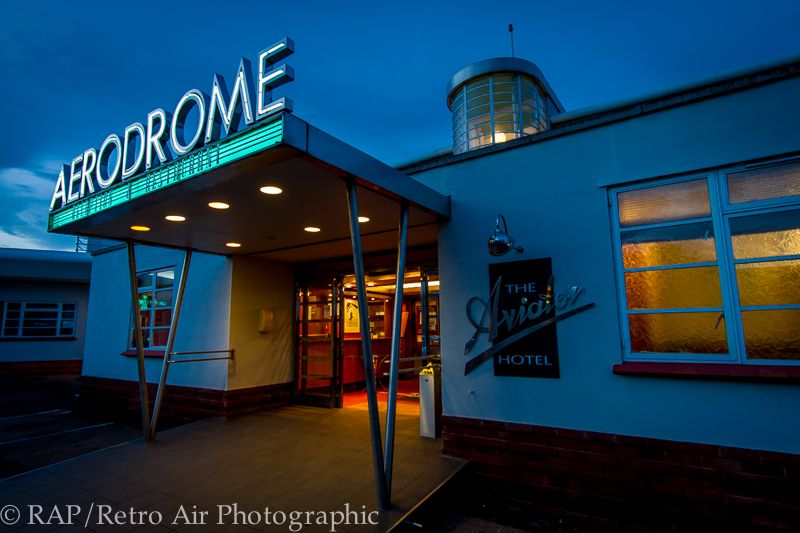 Hello & welcome.
I'm an enthusiast who photographs vintage aircraft in a very different way. The ONLY Retro Photographer in the UK and Europe who is shooting exclusively on a regular basis with models and airworthy vintage aircraft from the period 1910-70.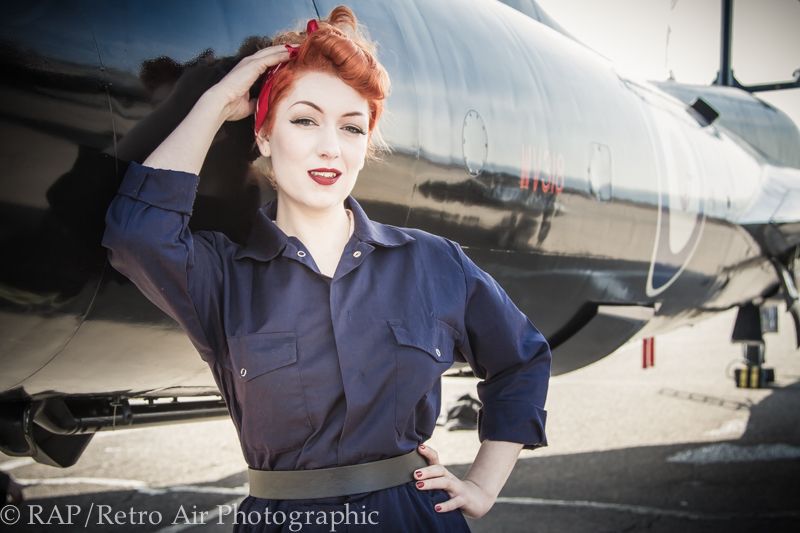 If you model retro styles in the UK and can carry off any of the style types below then I'€™d be interested in hearing from you.
Photographic styles include.
The €˜high society€™ look, ball gowns, voluminous dress clinched with wide belt, stiletto heels, hat, sleek long gloves, seamed nylon stockings, liberal make-up with glamorous, elegant polished €˜de rigeur€™ look, dark eyeliner and false lashes, bright red lipstick. Think Grace Kelly and Marilyn Monroe.
The €˜town set.€™ Floral summer frocks, twin set and pearls, tight pencil skirts, nylons, stilettos, hats, fox fur, small handbag, gloves, rouge. Think Audrey Hepburn
The €˜beat girl€™ or €˜sweater girl€™ look, casual frock, wool sweater, short-sleeved blouse, T-shirt, trousers or Capri pants with wide belt, stiletto heels, deck shoes, head/neck scarf, dark sunglasses and vibrant red lipstick. Think Marilyn Monroe.
Other areas include 1940's period styles featuring general everyday and military service and vintage Lingerie/Aircraft aeronautica 'Pin-up' shoots.
About the photography
Access came early on though associated work in the UK vintage aircraft scene to major collections of airworthy aircraft ranging from pre-war types, WWII Fighters and Bombers to post-war types of every description. At first the photographic work was mainly technical detail. Later, the retro side of the photography developed. Adding models in period dress-undress to these collections was a natural progression of the photographic work. A love the forties, fifties and sixties era, along with the history men and machines, and of course the women and their fashions have been key elements in influencing the style of images produced.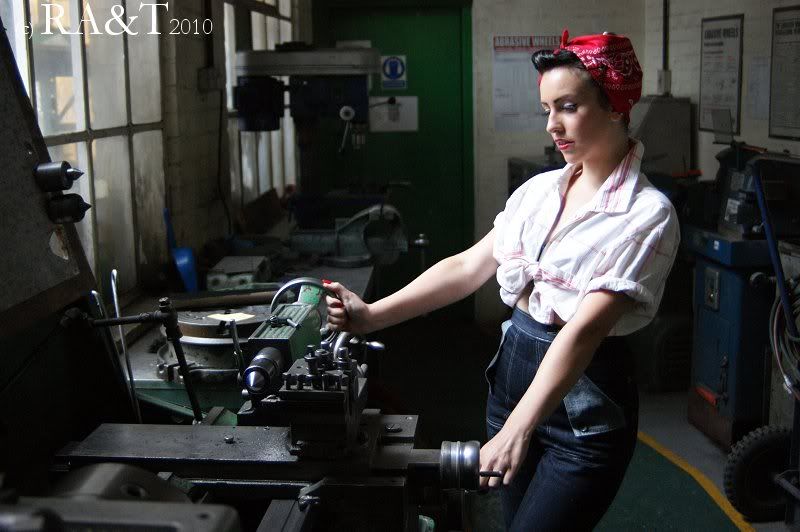 Often called a photographer-historian, an historical understanding of the subject matter being photographed has been essential in creating unique images. Inspiration comes from documentary footage, period publications, and manufacturers of the time. Described as a 'technical' photographer as shots are rarely taken of the complete subject, preferring to go for detail, the cropped in shot, or an unusual angle instead.
If you think you might be interested in working with me on €˜'Retro Air' or 'Aero Classic' or if you shoot retro and want a period aircraft in your portfolio then why not get in touch?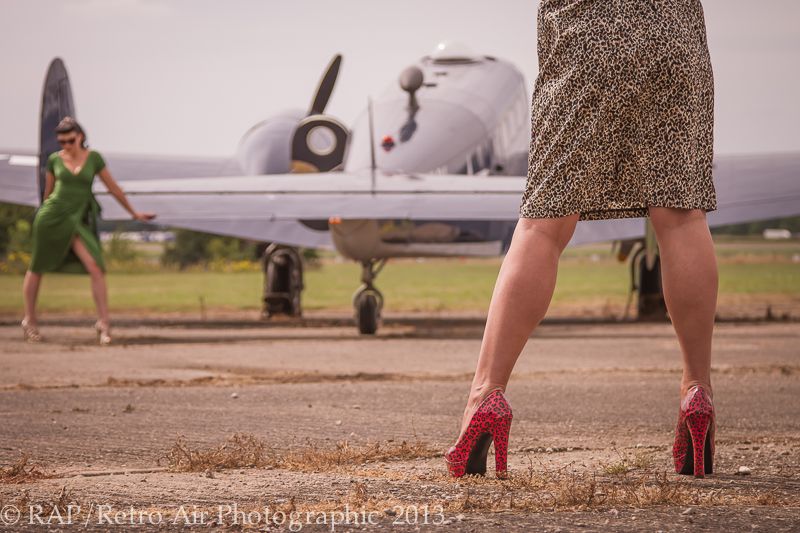 *****MODELS. Please take the time to read the following thoroughly.*****
Please don't be blinded by the photos. Read ALL the infomation on this page!
Arranging for the availability and use of vintage aircraft can often be protracted due to their operational requirements. The period aircraft I use are all airworthy and fly on a regular basis. As you can imagine there is quite a bit of groundwork to be done prior to any shoot. Setting up a shoot initially involves several meetings with the appropriate operators to look at type availability etc. Therefore at the moment I'€™m looking at serious enquiries only. So, if you are a serious retro enthusiast and would like to work with me then drop me a line and I will do by best to accommodate you. Please note. I do not chase after models.
All my work is copyrighted and remains solely in my ownership. I will sell my rights to photos but be prepared for the cost, it can be expensive. I reserve the right to use, or not, any work that I shoot.
Retro Hair Styling: It is the models responsibility to make their own arrangements as regards period hair styling. The model covers stylist fees.
Retro Wardrobe: Models must supply their own period wardrobe.
Tattooed Models: I don'€™t mind too much personally, generally clothes can easily cover them up.
Chaperon's: No problem. But be advised you may be required to help! Although generally my partner crews during the shoot. Also, NO 3RD PARTY PHOTOGRAPHERS! I.E no husbands/boyfriends with cameras on a shoot.
Where I shoot: I shoot 95% of my work outside and on location at various airfields around the UK. Due to the flying commitments of some of the collections, shoots generally take place between the beginning of March and the end of October each year.
So just to re cap.
I will work with anyone who is seriously into retro fashion, lifestyle etc. Regardless of experience, or age, so just ask!
Shoot: Anything period 1910 - 70, from Fashion, to Pin-up and Lingerie.
Place: Generally outside, or aircraft interiors or maybe a hangar. If you'€™re lucky it might even be heated!
Space Needed: The great wide open! Airfields generally, in fact they are almost a second home.
Travel: Yes to various airfields or other locations of significant period history throughout each season.
Published Works / Past Projects: Couple of aviation books. Not relevant here.
For the tech types amongst you:
I'€™m shooting
Digital Photography
with Canon Cameras using
Canon lenses.
Thanks for reading
Dave Jackson
The marks "RA&T", "Retro Air", "Aero Classic" and "RAP" are copyright of
D Jackson 2007 - 2014
The models you see here are amazing and very talented people. It has been my privilege to work with each of them. Their combined talents and presentation have made €˜Retro Air€™!
What others have said.
"€œI have worked with Dave several times now and I am always more than pleased with the results. If any of you get the chance to work with him and pose with these beautiful aircraft...do it!"€ Nicole Klein
"€œI had a shoot with Dave last summer. It was great fun and a wonderful opportunity to work with a fantastic collection of vintage aeroplanes. I strongly recommend shooting!"€ Jacquelyn Gladden
"€œHad a fantastic shoot with Dave recently, words can'€™t describe how fantastic it was. Dave is a wonderful photographer, so easy to work with. I was completely comfortable with him, he'€™s also very knowledgeable with regard to retro styles and period history and how it fits in with the type of work he does. I would highly recommend him to anyone, anywhere interested in retro/pin up style shoots with aircraft. This guy knows his stuff! I would work with him again in a heartbeat."€ Knoxville Roxie
"The best Retro work I've seen from the UK so far!"
Tom Eitnier Coolgirliestuff Photography
"These really are visually striking images, the retro feel, the timeless elegance they invoke, creates images that really do make one feel as though you had stepped back in time. Superb!"
London 6 X 6 Photography
"I jumped at the chance to work with Dave and some fantastic vintage aircraft that I would normally not have the chance to do so. Very professional yet friendly, I felt very comfortable working with him which is always very important to me. He's very knowledgeable about aircraft, and the shoot was so much fun. If you get a chance to work with this guy grab it with both hands, you won't regret it!"
Stefanie Valentine
"Dave is very easy to work with, he's passionate about the era and works hard to get the details just right. He's very respectful and looks after his models too."
Jean Rae
"What a lovely collection of images. Few people would stick to such a narrow style and topic but your portfolio here really is a feast for the eyes."
Matt Harper Photography
"I had my first shoot with Retro Air at a Fly-in at North Weald. Despite the wind and a bit of rain I'm extremely pleased with the results we got from this shoot! Retro Air were extremely easy to work with and it was nice to know Dave really knew his stuff about the aircraft we shot with. I can't wait to organise another shoot with this photographer and highly recommend them as a photography team!"
Stephanie Jay
"Awesome port! Impressed with your attention to detail, it certainly shows in your pics. Perfect models to carry out your themes and spot on capture by you. A real pleasure to view, thank you."
Amanda Lee
"I had a fun shoot with Dave and his wife Bee at Sleap Airfield in Shropshire. It was a windy, but dry day and the aircraft we were using coincidentally matched my new dresses quite well. Getting changed in a hangar was a new experience for me, but everyone (including the aircraft engineer John) made sure I was comfortable and happy throughout the shoot. We had lots of laughs, everyone was so easy to work with and I love the images that we got. I'm very pleased to have got the opportunity to work with Retro Air, highly recommended!
Thank you to all involved." Violet Ecstasy.
Verified Credits (0)
Worked with Retro Air Photographic? Share your experience and become verified!
Add Credits
Credit Notes
Regular models for 'Retro Air'

Lillian Love #2936446 UK



Other models who have featured in RA&T/Aero Classic

Little Jem #1529053 UK
Jean Rae #1076043 UK
Ivy von Wolf #1702088 UK/CR
Nicole A Lure #681688 UK/D
Violet Ecstasy #702370 UK
October Divine #2671777 UK
Stephanie Jay #1461592 UK
Stefanie Valentine #1613217 UK
Knoxville Roxie #1251896 UK
Debra Decay #57514 UK
Jacquelyn Gladden #1404434 UK
Stephanie St Clair #578741 UK
Kitten von Mew #49201 UK
Cal O Rein #1185742 UK

Charli Marsh. UK/USA Not on MM.
Ewa Szwebs. PL Not on MM
Karen Back. UK Not on MM.
Hannah Northedge (Jazz Musician).
Fiona Harrison (Actor/Singer).
*******************************************************************************************
Are you on any of the lists below?