Details
Last Activity:
Dec 30, 2016
Compensation:
Depends on Assignment
See Less
Friends (460)
About Me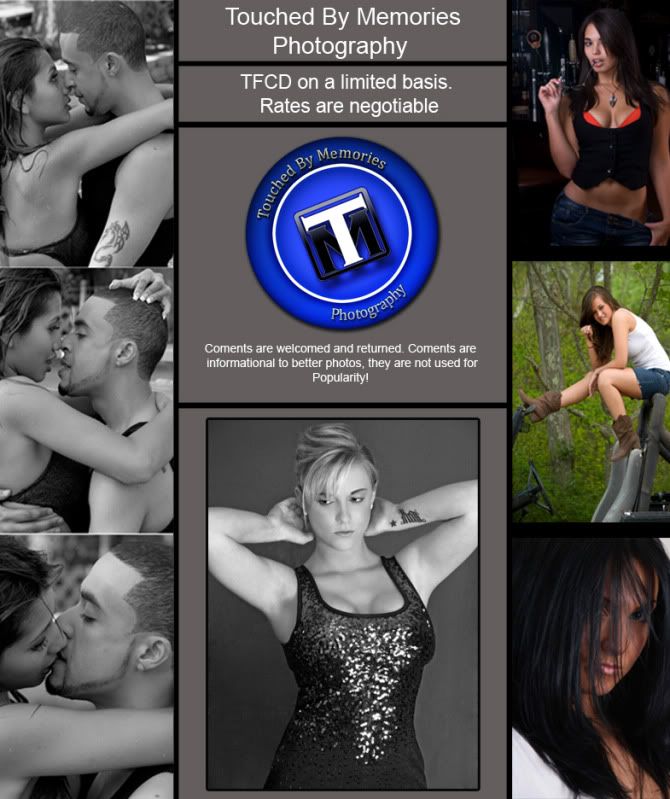 Welcome:
You have made your way to the Model Mayhem page of Touched By Memories Photography. I am extremely easy to work with and would only prefer to work with like minded models and professionals.
All of my shoots are full of fun and laughs because it is instantly noticeable on film, the better the atmosphere the better the shot! I'm looking to work with models with experience on all levels, from none to extensive but prefer those without egos.
I do select TFP sessions when we have the time or if an idea really catches my interest. I also do not over Photoshop any of our photos. Natural skin color and small blemishes are what gives a model there individual look, style and beauty, so if you are worried about me making you look like a Porcelain Doll you need not worry unless that's what you request. My rates are very reasonable, and i can work with any budget. Just remember this is a job for me and equipment does not come cheap.
My other Sites we have around the web:
http://www.facebook.com/profile.php?id=1183058021


If you would like to work with me just drop me a line by the way of MM or my personal email - [email protected]



*****************************************************************************





[i][b]"Leroy and Matt, the shoot we did was do darnnn INCREDIBLE. you guys rocks, and the shore boutique was ouch! + hot hair and mua.. cant wait to see the pics..
love you guys, lots! xoxo"
- Tammy Reynalda - 496870
Model
"TBM..Wonderful team! You guys were just so uplifting regardless of the obsticles..Professional all the way and very creative. Can't wait to be you August model!"
- Marleny Estevez - 344780
Model
" It was so great working with you yesterday! What a fun day! Everyone there was an absolute joy to work with. I can't wait to see the images! Absolutely would love to do it again sometime. You know I'll never look at strawberries the same way again, LOL. ;-)"
- Suzi Lorraine - 4472
Model
" You guys rock!"
- Makeup by rL - 548529
Makeup Artist
" Hi! It was sooo nice meeting and working with you guys today!! Hope to work with yous again sometime soon, Cant wait to see them kick ass shots! Wohooo..Im excited.. >LMAO!

- Tammy Reynalda - 496870
Model
" I just want to thank you both for a great shoot yesterday! I had a lot of fun and felt totally comfortable the whole time. You are a great team and I can't wait to work with you again! I appreciate how dedicated you both were to making sure that the shots were perfect all around. Can't wait to see the finished products! : ) "
- xO Heather Ox - 495358
Model
" It was great meeting and working with you guys today!! Looking forward to more adventures in the future! "
- Jasen Hudson - 328584
Photographer
" loved working with you.. look forward to more collaboration."
- Aneeta C - 390872
Makeup Artist
" The best photographer to work with ... He makes you feel so comfortable and he works so hard on your pictures... Amazing dedication Thank You! "
- April Michele - 551047
Model
" Wow...what can I say....! GREATTT...no! AWESOMME shoot friday!!!!!! We came out with some BANGGGG Banng Crazy Shots!!!! You were wonderful to work with and so was "Matty-boy" lol.! You two are awesome...very relaxed, cool, and attentive! I had so much fun and on behalf of the girls, they did as well!!! We enjoyed it so much! and From the previews of he shots I saw, They looked crazzzzzzzzzzzzzzyyy awesome! haha...thats my new word! 'crazy awesome'....i so, look forward to working with you again...! in the 'near' future!! so we can get even more beauty out of it!! So xcited to see the shots and the girls are dying as well! lol....Thanx again for everything! tell matt thanx as well and suchhh a great team, you both are!!! keep in touch and again...Thanx!!!
Much Success and Love... "
- Racquelle Dolores - 414353
Model
" Leroy is a pleasure to work with.
Easy going, reliable & on time.
A total professional & his work is really good.
I can see by the original files I won't have to do much editing. Saves me a whole lot of time & makes my life so much easier.
Models, do yourselves a favor & work with this photographer! "
- EYE-lene - 9972
Wardrobe Stylist
" I enjoyed working with you yesterday as well. You shot some amazing pictures. Thanks again for your great work and your dedication. I look forward to working with you again! "
- Martin LaSerre - 472958
Makeup Artist
Verified Credits (0)
Worked with TBM? Share your experience and become verified!
Add Credits
Credit Notes

Matt

Nikki Royal - 1116021
GiGi Bella 7 - 1092209 (2X)
Chelsie D - 1093157
Ashley Lynn Huffman - 879324
Jessica L Fromal - 352694
Christina Duong - 771524
Ryan Gardner - 711180
Marleny Estevez - 344780
Crystalita - 643620 (3X)
Fallon M - 606613 -
http://www.fallonmaressa.com/
Suzi Lorraine - 4472 -
http://www.modelsuzi.com/
ANC - 380836 -
http://www.amandacoulter.com/
Tammy Reynalda - 496870 (3X)
XOHeatherOX - 495358 (2X)
Sally Taylor - 213725 (2X)
Julia Melnikova - 512741 (4X)
Jenn Rosen - No MM account
Racquelle Dolores - 414353 -
http://www.myspace.com/racquellemusic
PuRe CoLoMbiAn - 505323 (2X)
Angie Katiana - 549357
April Michele - 551047
Jessica Victoria - 508518
Sylvia Vasqez - 493125
Eye-Lene - 9972 (4X) -
http://www.eyeleneproductions.com/
Dianna Castner - 599298 (3X)
dollface stylings - 493456 -
http://www.myspace.com/dollface_styling
Martin Laserre - 472958 (4X)
http://www.myspace.com/makeupbymartin
Aneeta C - 390872 (2x)
Make-up by RL - 548529 (4x) -
http://www.robinlynette.com/
Lja Artistry - 563832
Yamileth - 561051

Jasen Hudson - 328584 (2x) -
http://www.jasenhudson.com/
Paul Dempsey - 582720 -
http://www.nixienox.com/
Thi Chien - 627490 -
http://www.myslantedvision.com/
Laboratory Studios - 458958 -
http://www.laboratoryhairstudio.com/
Body Painter:
AboutFace - Face Painting - 833527