Details
Last Activity:
Feb 17, 2018
Experience:
Very Experienced
Compensation:
Depends on Assignment
See Less
Friends (4030)
Lists (56)
2-girl submissive
1 Photos
anonymous nudes
71 Photos
Artistic nude poses
34 Photos
Artistic topless and implied nudes
28 Photos
Awesome leg pics
15 Photos
Awesome tease shots
0 Photos
condo location shot ideas
23 Photos
Couples-male+female
14 Photos
girls and instruments
14 Photos
girls with girls
32 Photos
Great implied shots
11 Photos
My killer nudes
118 Photos
Nice implied shots
246 Photos
poses and shots to try
107 Photos
ripped shirts and tops
9 Photos
Roller skate shots
12 Photos
Ronhep's Killer BW's
23 Photos
ronhep's list of killer photos
200 Photos
Ron's Fave Pin up Shots
25 Photos
Ron's Hot Swimwear List
4 Photos
sexy football and sports shots
2 Photos
Sexy Railroad shots
8 Photos
sexy sports shots
0 Photos
Shots I want to emulate
93 Photos
Striped Stockings
5 Photos
Unusual location nudes
11 Photos
Winter Glamour shots
29 Photos
See Less
About Me
PLEASE NOTE I ONLY RESPOND TO FRIEND REQUESTS WHO AT LEAST TAKE THE TIME TO EITHER COMMENT ON A PHOTO OR LEAVE ME A TAG.
I am a very experienced photographer specializing in sexy glamour and pin up styles with a preference for nudes. I actually shoot real estate photography for a living, but my passion for many years has been female glamour and pinup style photography, and I am always looking for new models to work with. I am very good with new models to get first class results right away, so if you have little or no experience, it is not a problem, and love working with new models. My style has an emphasis on glamour and pinup with what I think is tasteful erotica thrown in. Models I shoot with, must be very comfortable with their body to be a successful shoot. My preference is for models who can shoot nudes, but if you are comfortable with lingerie and implied nudes, it still would be a pleasure to shoot with you. As a general rule, I shoot on a TF basis, and give up to 100+ retouched images, generally within a week from shooting, but sometimes can offer payment for some models who usually shoot paid for shooting nudes. Contact me and we can discuss this
If you like my style and want to shoot, don't hesitate to contact me about arranging a shoot. I am very easy to shoot with, and can guarantee excellent quality images from the shoot.
Also as a benefit to models I have an extensive collection of outfits, lingerie, costumes and shoes to shoot with. In general most of the outfits or shoes the models wear in my shots belongs to me. A big benefit if you have limited type of wardrobe for shots or if you are tired of using the same outfits for different photographers. Check out my link below to my full portfolio page with over 10,000 sample photos.
CLICK BELOW TO SEE MY FULL PORTFOLIO PAGE WITH MORE THAN 10000 PHOTOS.
YOU MUST THOUGH,BE LOGGED IN WITH A YAHOO ACCOUNT TO SEE MY PHOTOS>
CHECK OUT THE PHOTO BELOW OF MY SHOE COLLECTION TO GIVE YOU AN IDEA OF THE HUGE COLLECTION OF SHOES,LINGERIE,OUTFITS & COSTUMES TO WORK WITH FOR A SHOOT. ALL YOU NEED TO BRING TO A SHOOT IS YOURSELF.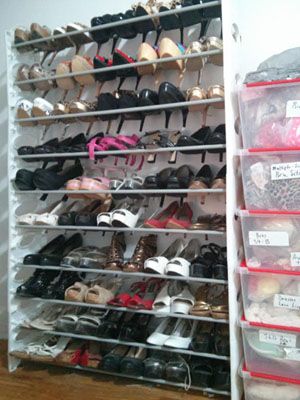 MM 18+ PIC OF THE DAY, AUGUST 24, 2012 & JULY 2nd,2014

VISITORS SINCE APRIL 11th, 2010
18+ Model Mayhem picture of the day winner for August 24th, 2012
Verified Credits (16)
Worked with ronhep? Share your experience and become verified!
Add Credits
See Less
See All Verified Credits (16)
Credit Notes
FEEDBACK FROM SOME OF MODELS I HAVE WORKED WITH

Talented, professional, experienced. Three words to describe the amazing photographer that is Ron ! He knows what to do to make you feel comfortable, so him and his magic lense take the perfect picture. Extremely respectfull, I loved to work with him, it wasn't our last time for sure! Take the chance , you won't be disapointed !

PS: He also has a HUUUUUUUUUGE wardrobe full of clothes, shoes, costumes, accessory, etc!!
ANIK BISSONNETTE #1362524


Ron... If I had to describe him with a few key terms, they would have to be these: punctual, well prepared, completely professional, highly experienced, great at giving guidance, easy to work with, and fantastic at capturing your best angles as well as light. It was a tough day to shoot on; it was cold and rainy; I was exhausted and overwhelmed by my work load. Nonetheless, Ron made it simple to find a spot, pick out some looks, and produce pictures that look amazing as rapidly as possible. He is also caring, and brought a large coat so I did not freeze in between shots! I'd recommend working with him to all models out there, be they novices like myself or full-blown pros.

MEESH #2714194


"Ron is truly a pleasure to work with. Not only is he a talented and very professional photographer, but he always makes sure you are comfortable and feeling confident. He works quickly, I didn't have to wait any time at all to see the photos! I would highly recommend working with Ron, whether or not you are an experienced model. He brings out the best in you, and the result is fantastic photos!"

WINNIE VONVAUGHN #2661819

"Ron is respectful, experienced, and has a gift for finding great natural lighting. He also works extremely fast! I had 100 retouched images within two days of working with Ron! Especially for a beginner model, I would recommend working with Ron, as he has a wide array of costumes and outfits, as well as a number of creative concepts."
DAYNEH #2683803

"Ron is an extremely talented photographer. He also has the ability to bring out the best in his models no matter what their experience levels may be. His professionalism as well as his ability to make his models feel at ease makes for a very pleasant and enjoyable shoot. Lastly, his photography is incredible-you won't even believe it's you when you see the photos! Overall, if you have the opportunity to work with Ron, seize the opportunity-you won't regret it! "
SWEETBEE #2390770

" I have shot with Ron 10 times so far, including TF and paid jobs, and is definitely my favorite photographer to work with. Very professional and easy to work with and always goes out of his way to get the best shot possible. His images speak for themselves. He is one of the best glamour style photographers in the area. And he always get a large number of retouched images back to you within a couple of days. No long waits to see the result. And his photos are always amazing! If you have any questions about how he is to work with and his professionalism, contact me and I will get back to you.
FAITH LACHANCE # 1360627

" Ron was awesome to work with. He was a great inspiration to shoot outside on the rocks and water. He is a great inspiration to all models and whoever doesnt work with him is crazy! He visualizes everything before and it always comes out great! I would work with him constantly.!! "
KIM HYPES # 1750966

"Ron is an avid photographer, I loved working with him! You don't have to wait weeks and months to see the pictures. He's so professional, and at the same time, he respects your limits.. Trust me, you'll not regret the photoshoot.. So go for it! "
DANIELA CHARL #1781175

"Ron was a pleasure to work with. Very professional. Great eyes behind the lenses. Always looking forward with working with him again."
KAY MODEL #103761


" Ron is One of the most creative, professional and experienced photographers with whom I have been fortunate enough to have worked with. He's really friendly and easy-going, so it's very easy to work with him.
P.S. He also has all the clothes you can imagine to shoot with!!! "
KATTIA K. #1432365

"Ron is a real pro, he has some of the best outdoors shots i ever seen. He will always find the nicest outfit for you! I highly recommended to models to shoot at least once with him "
MARIE-PIER #782373

"Ron is a great photographer to work with, always provides great direction. He's great for both directing the shoot or letting the model decide, and always provides amazing photos. I definitely recommend working with him!"
REDDE #2179600


Here are many of the models I have shot with over the last while on MM. All were great to work with and can be recommended.Please feel free to contact any for references



Kase #2401500
Victoria Toxic #2459821
Elana Wrobel #1715145
Aurora Vixen #1847967
Ingrid V #2462174
Finding Zen #2222643
Leena B. #2436550
Aurora #2438040
Ashley Hale #2379139
MaryJane Flower #2292115
SweetBee #2390770
Kindness #103761
Maramodel #2321028
Melanie Kim #1750966
Hot Mess #1160262
Miss Meli Melo #2305547
Thea V. #1210297
Keesh #2276865
Greengold #1910285
Yulia #1189803
Pretty Hot #2259479
Danni Belle #2118142
Redde #2179600
Vicky Beaulieu #1770772
Thernasha #2127139
Shiraz #1390894
Catherine St-Pierre #1920848
Serafina #1907294
Nessa Alexandre #1764256
Joann Ting Wong #1747893
Miss Laelia #1282043
Daisy Marciano #1747427
Faith Lachance #1360627
Angel Qc #1575180
Kattia K. #1432365
Cedez Jones #1027612
General K. Mayhem #780599
Kristina Campbell #1821828
Martina #1664099
Maude L. #711552
Delicious Girl #1071885
Lolita Doll #1206088
Shana #1161843
Krystal Leigh #840741
Pinky the Model #1078007
Ingrid #1015435
Marie-Pier #782373
Elaine Jade #1646882
Katherine Duggan #1660791
PreciOoza #710509
Kristina 270 #719702
Mada #1319599
Miss kaprice #1276639
Keera #662933
Trinity #1445492
Kateryna #1031502
Kelly #180802
Kristen #1405995
Jessica #1045377
Nathalia #511037Sami #880706
Regina #1480375
Faith R. #750391
Alys #1036715
Deby #369559
Mingdo #884669
Vitalina #1058870

Not on MM
Marie-Michelle
Allizza
Kristen