Details
Last Activity:
Jan 22, 2022
Experience:
Very Experienced
Compensation:
Paid Assignments Only
See Less
Friends (2263)
Lists (3)
The Justin Kates
77 Photos
The Justin Kates: The Man Behind the Legend
0 Photos
See Less
About Me
I do not give raw unedited photos out.
Touring all summer, get at me.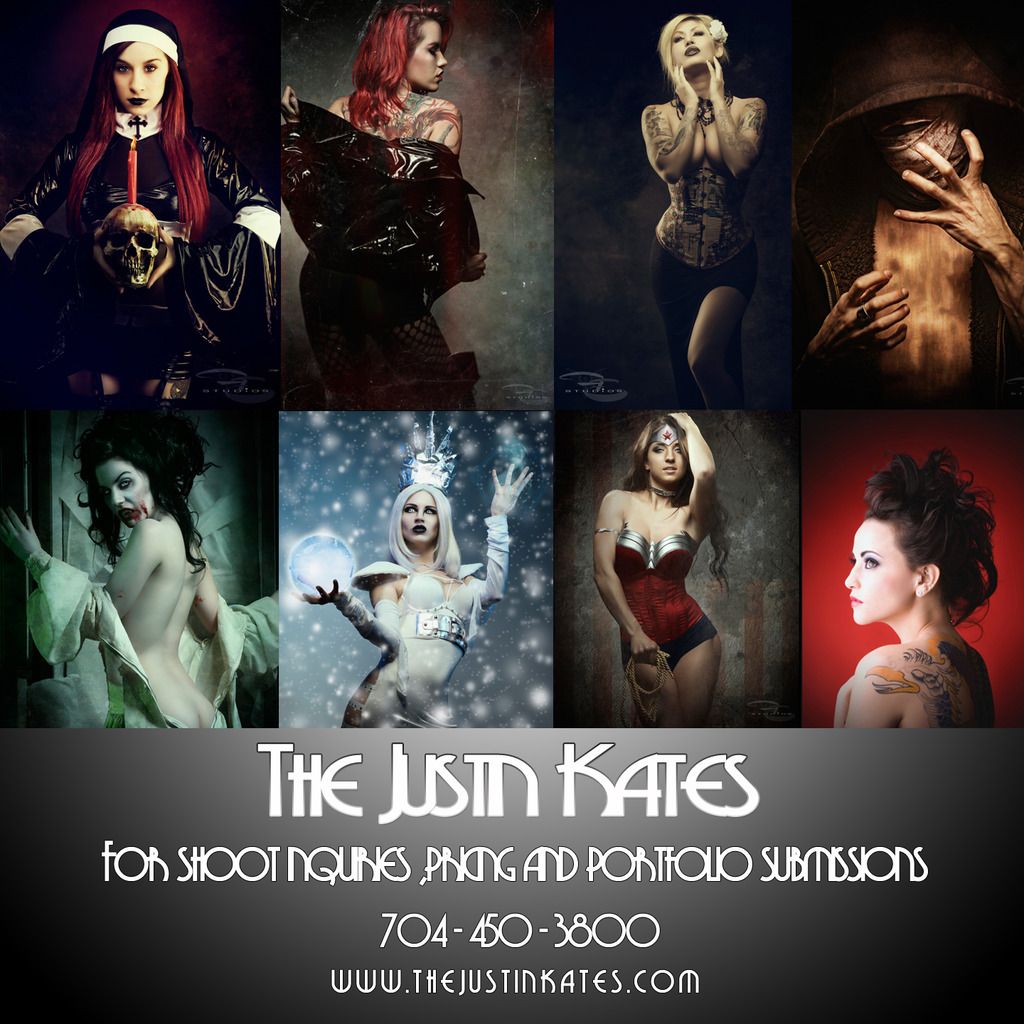 An inordinate and at times obsessive preoccupation with fantasy might easily well be psychiatrists' notes in the case file of one Justin Kates. Justin spent his formative years in Salisbury, North Carolina, searching for anything to shatter the ennui of a conservative southern city. Growing up in the Bible belt state of North Carolina, young Justin encountered the thunderous clamor of Christendom, hellfire, brimstone, damnation and fanaticism. To this fervor, he reacted badly...resisting the stranglehold of righteousness by plunging headlong into Lovecraftian mythology, role-playing games, heavy metal, and artistic pursuits that would arm him with the visual vocabulary with which he would develop his distinctive and carnal style. Every artistic pursuit preceding his photographic work has provided tools that he would eventually apply to current digital art.
What is Justin's style? As with most artists, it is not simply a topic, subject, or rehearsed technique. Kates puts his stamp on things that others might glamourize by corroding, roughening, and artfully destroying objects of beauty and desire. This method, this gritty deconstruction of aesthetic objects results in a strange beauty, a revealing of the shadow side of human behavior.
Anyone that's met Justin Kates in person can attest to his encyclopedic knowledge of obscure historical facts, military strategists, and all things Squidbillies. If it involves conflict, or aggression Justin has some recollection or interest in it. Each of the prominent features of his psyche: domination, control, conflict, lust, and aberration converge in his current undertaking, Sanguis Vitam Est.
Though using the quote 'Fortune favors the bold' is a mantra often heard atop the din of metal music, even the mighty Justin Kates cringes at the nightmarish nemesis that haunts his dreams, the dreaded eggplant wizard.
The process of creating an overview of characters drawn from a broad spectrum of vampire lore has brought Justin in contact with numerous contributors, models, advisors, artists, and friends. Creating any artistic project is burdensome yet rewarding, and has culminated in his own personal psycho-sexual grimoire, a record of his journey into an abyss.
I'm booked 2-3 months in advance. Please understand if I don't get back in touch with you for TFP/CD offers.
Verified Credits (3)
Worked with Justin Kates? Share your experience and become verified!
Add Credits
"Justin is amazing, he always makes me look like a total rock star. If you want quality work worthy of publication, a strong portfolio, posing and coaching help or incredible art prints he is one of the absolute best in the industry hands down." Read less
"LOVED working with Justin!! Highly recommend :)" Read less
See Less
See All Verified Credits (3)
Credit Notes
Models:

Scarlet Skye #2506291
Anastassia Bear #1174571
Nickie Jean #600866
Kellie Laplegua #9850
Jenn Ryan #105382
Alabama Deer #606775
DeSalle #1188503
io #14914
Leigh Fox #1493056
XlcrMoon #536498
JEM model #713507
Tara Ryze #546749
Asia S #620422
CHRISTINE RENEE #526434
JessePagz #873239
Acid PopTart #7744
kerri taylor #982
Megan_Renee #1327606
Krysta Kaos #1588732
Tali Bouskila #31642
Jr-Vampira #903052
Sam Carr #137008
KuerbisKopf #317714
Collette #27206
Amara #18863
Twigglet #15869
Jessihka CandyKiller #155053
Angelina H #55149
AshTree #100166
Krikett #550054
Vivica Hallow #495371
Kat Elmore #474712
Jinx the Megatron #107748
Wolfling #557323
Feydyn #599536
Evan Stacy #209744
Onihime Miffy #191679
Angie K#363910
Rose Edmonds #694154
Mistress_Imp #694766
MISSBEHAVIOUR #285722
Brandon Hilton #664152
Brandee Krysak #696567
Mina Mori #594468
Lindsay M #295337
Karol Helms #8000
J Cline #576170
Amanda Gregory #758385
Miss Precious Pain #733355
Carrie Anne Hunt #702169
Logan Glenn #499598
heathArz #87914
Cindy Holiday #429277
Julian Michaels #728371
Taylor McGovern #601308
Maria Whitaker #531922
Megan Poplin #657890
Sara X #47617
Virginie Martin #233033
Kallia #825555
Peri S #901307
JennMartin #372219
Candice Vermillion #1132817
TSpandora #1118565
Ashley Christine #102674
LiiLii #642079
Melissa Paige G #676034
Cora Porcelaine #1242433
Lindsay Worsham #207527
k h r i s t #622216
Hollee Hazard #1153142
Hex Hypoxia #749533
_Victoria_ #806179
Haley Marie #146895
Built 4 Sin #814193
Cristin Leigh #793079
Satu-Anon #1053656
Savan A Wynn #1157626
DarlaDarkling #380530
Hollie Quinn #1177068
CrystalMarieHolmes #855038
Jillian Lynne #363749
Beautiful51N #54955

Make Up Artists:
Whos The Fairest #102808
Hotelchaka #122459
Pashur #1727
Elizabeth Tolley #619160
Amara-MUA #705991
perfect blue #1655111
Parlor Tricks #1570277
Greyson Wolf Fx an Fang #1631157
TARA DiPETRILLO #579480

I Have Had Work Displayed At:
Purgatory (multiple events)
Summer Blood Feast (2007 & 2008)
Centerfolds
Dragon Con
Artoxication
Monster Con 2007
Phobia (multiple events)
Paper Doll Lounge
Thee Playhouse
Con Carolinas 2008
Nocturnal Frequencies
Harvest 2008
Beauty's Torment

Published Works Include:
Various Websites
Creative Loafing
Amps11
Eye Magazine
Xcitement
Skintwo Magazine
Vamperotika Magazine
Elevate Magazine
Beyond Fantasy
Dark Beauty

Design and commercial work for:
Prevue
The Sunset Club
Fetish Fair Fleamarket
Kiss lounge
The Men's Club
Android Lust
Angels on Acid
Helltrash
Diverje
Stiff Magazine
Dsbp records
Astrid Haven
The Graveyard Boulevard
Ghost Trek
The Genitorturers
Dean Guitars
Morbid Angel
One Eyed Doll
Bloody Hammers
Napalm Records